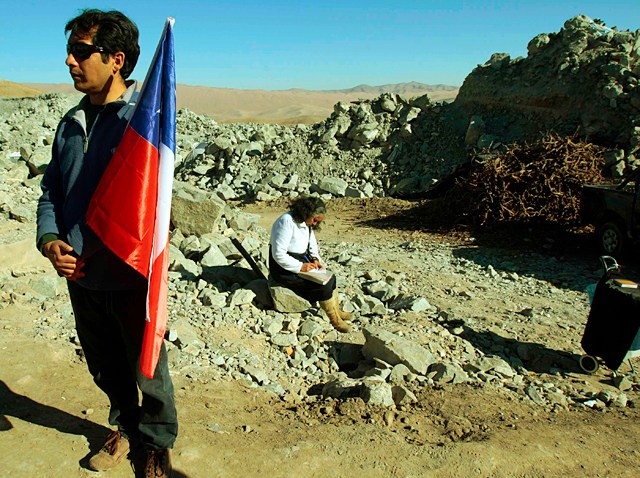 In the annals of unique marriage proposals, this one may take the wedding cake: Esteban Rojas asked for his sweetheart Jessica Ganiez's hand in matrimony from a half mile underground. And even though she said yes, it might be Christmas Day before he gets a chance to kiss the bride.
Rojas, 44, one of 33 workers trapped in a gold and copper mine in Chile for the past 25 days, used the grapefruit-sized portal miners have to receive supplies and communicate with the outside world to send a message to his lady love. "When I get out, let's buy the dress and we'll get married," Rojas wrote Ganiez on scrap paper.
Ganiez, 43, gave romantic Rojas an enthusiastic "yes."
Rojas and Ganiez have been have been together for 25 years, raised three children and are now grandparents twice over. Yet although they were legally hitched in a civil ceremony years ago, Ganiez never got a big church wedding, as is customary in Chile.
But apparently being trapped in a hot, sweaty mine shaft helped warm up Rojas' long-term case of cold feet. "I have tried to hint at it many times, but it never happened," Ganiez told London's Daily Mirror newspaper. "He always said getting married is a once-in-a-lifetime thing, and he would ask me when the time was best. Obviously, what has happened made him do it."
Rojas, a maintenance mechanic who has worked at the San Jose mine for the past six months, found himself trapped 2,300 feet underground when the mine caved in August 5. Chilean officials insist Rojas and his 32 fellow miners are not in danger, but it still may take four months to rescue them as an escape shaft is drilled.
Chile mine collapse: Facts about the amazing survival story
Supplies ranging from bedding and clean underwear to diversions such as iPods and gaming consoles have been lowered down a duct to the trapped miners. Notes from loved ones — many of whom who have set up a family camp in the unforgiving Atacama Desert, where the mine is — are also being passed back and forth.
'Our love is deep'
Ganiez's joy was unbridled when her wedding proposal emerged from the duct. "I thought he was never going to ask me," Ganiez told The Mirror. "We have talked about it before, but he never asked me. I think it's a good idea."
Still, Ganiez said she had a bit of trepidation when, on Sunday, she finally got the chance to speak with Rojas through a line rigged down into the mine. Each miner only had 20 seconds to converse, and even with a wedding proposal in hand, Ganiez feared the "W" word might not actually come out of Rojas' mouth.
"I was worried he might not mention it again," Ganiez told CNN. "But he said we should get married in church. He'd asked me if I've already chosen the dress." Ganiez managed to use her fleeting seconds to tell Rojas the answer was yes.
Now Ganiez is setting up a bridal registry — a new refrigerator and a food cooker are on her list. But she confided she misses her intended terribly, and will wait as long as it takes to hold him in her arms once again.
"We know the rescue will take a long time, but we won't lose hope," Ganiez told CNN. "He always said he planned to grow old with me, and I plan to grow old with him. Our love is very deep."
Copyright MSNBC - MSNBC