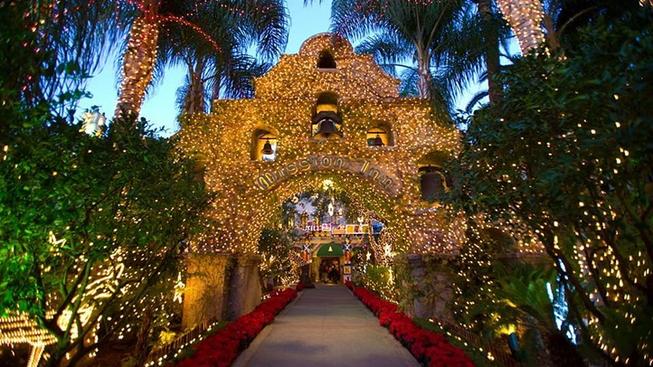 WHAT ARE YOU DOING... on the day after Thanksgiving, generally? Are you sneaking a spoonful of the jellied cranberried, followed by a heap of mashed potatoes, followed by a few messy mouthfuls of stuffing? Are you showing the relatives what is new around town, before running them to the airport? Or are you catching a second nap, just because you can, and you're still snoozy from all of the hosting you accomplished the day before? Maybe you might even find time for the sales. Whatever you're up to, you're probably not in a place that has 5,000,000 lights in full glow. But there is a way to get to that place, on the day following the feastiest day on the calendar, and it involves making the journey to...
RIVERSIDE: For that's the longtime location of the turret-terrific, castle-amazing Mission Inn Hotel & Spa, a grand ramble of a building that is both quaint, and sizable, at the very same time. Both of those qualities are on display during the holidays, when the Festival of Lights opens. The switch is flipped on the Friday after Thanksgiving, and the strings of wee bulbage sparkle on through the holiday season. It's a holiday season that sees plenty of people, including those visitors not staying at the hotel, arriving to admire the 200 animatronic figures, the bells and bows and baubles, and, yes, the epic illumination. Which all leads to this: If you'd like to do an overnight at the Mission Inn during the Festival of Lights run, best secure your room soon, for plenty of people do make this annual tradition (and have for the last 27 years).
OTHER HOTEL HAPPENINGS... include Breakfast with Santa, a Santa letterbox drop, "the world's largest man-made mistletoe," ye olde carolers, and the elf tuck-ins. Jan. 6 is the final festive night, if you like your good cheer to extend into the new year. For all of the peppermint-scented celebrations and luxe add-ons, follow the twinkle-twinkle to the Mission Inn site now.
Copyright F