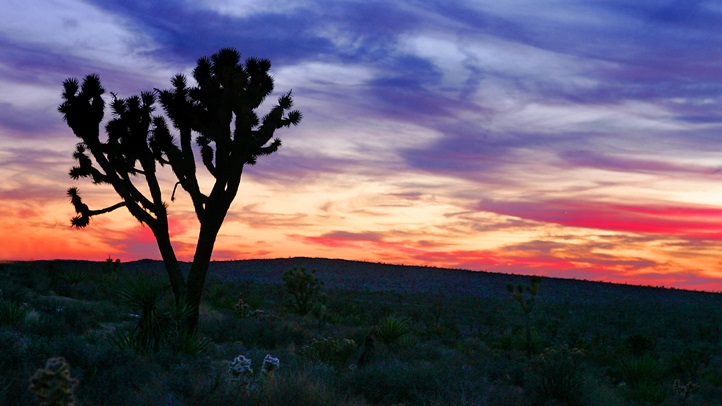 SUNNY, CRISP, ROCKY: The snowy scene is often the same. Picture a big lodge, some fir trees, a set of skis, an bench covered in ice, a frozen waterfall. The national parks aren't known for closing the front door in winter, but many of them go pretty dang cold come January, making them a destination for hearty 'n hale types. But a number of California parks stay golden, even in the heart of the chilliest month. Joshua Tree National Park is one, courtesy of its wild 'n rock-strewn desert location. True, a desert night can give any location on the planet an admirable run for sheer brrr-o-sity, but wintertime days tend to be downright glorious. That is, of course, if you like soft breezes, long views, and all of that yellowy-nice sunshine. So, what's to do around Joshua, when a big music festival isn't unfurling and the wildflowers haven't quite arrived? Why not go...
SCINTILLATING STARGAZING: The Milky Way? Yep, it is pretty much a nightly thing above the arid region. The park people recommend arriving with binocs and a star chart. Or maybe a miniature telescope? It's deep space time, for sure.
GEOLOGY MOTOR TOUR: This one's an 18-miler, taking people and their autos -- yep, you're on your own, adventurer -- by 16 distinct stops via unpaved roads. But bet you'll see some ridiculously picturesque back country along the way.
KEYS RANCH TOUR: Joshua Tree is often depicted as being free from any homesteads or settlements, but this historic clutch of buildings tells a different story. There's a schoolhouse and store, even, so you'll get a full picture of life in the Mohave way back when.
RANGER PROGRAMS: Like all parks, the programs are plentiful and diverse. Canyon walks and cacti talks dot the Joshua Tree schedule. Doesn't that sound like a little slice of sunshine, after the go-go-go holiday season? Yes, it does.
Copyright FREEL - NBC Local Media