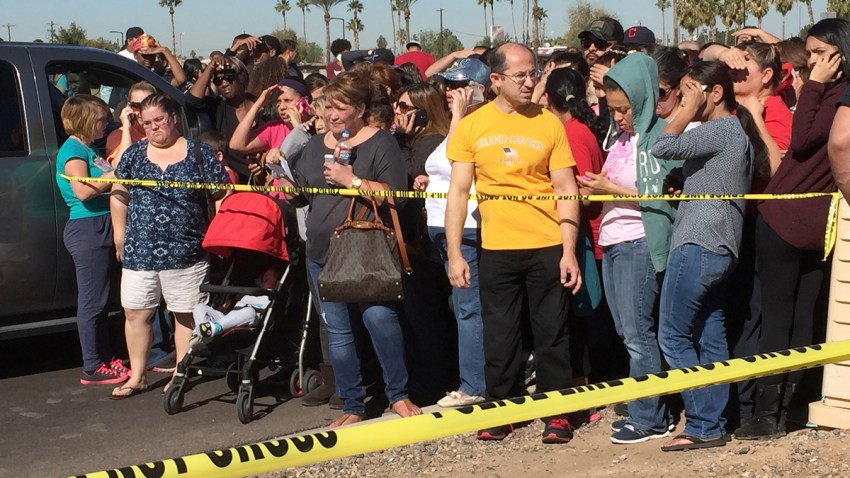 Two 15-year-old girls died Friday in a shooting at a suburban Phoenix high school that police now believe to be a murder-suicide.
Police said in a statement released Friday evening that homicide detectives found a suicide note at the scene.
"Although the investigation is not complete, investigators working the case say evidence found at the scene leads them to believe that one female took the life of the other female before taking her own life," the statement said.
Authorities have positively identified both teens and said "the two girls were very close friends." Police would not confirm or release their names because of their ages, according to the statement.
It's not clear what led up to the shooting at Independence High School in Glendale. It was limited to the two students who were each shot once and found under a covered patio near an administration building and cafeteria. A gun was found nearby.
Police said they responded to several 911 calls about the shooting. Officers arrived at the school in less than two minutes and locked down the school. They determined it was not an active shooter situation.
Hours before the lockdown of the school was lifted, hundreds of worried parents crowded the parking lots of nearby discount and convenience stores.
One woman gnawed on her fingernails as she spoke on a cellphone, while another had tears streaming down her face. Other parents chain-smoked as they waited for news.
Cheryl Rice said she went to a store after a friend called about the shooting and asked about Rice's 15-year-old daughter. But the girl called to say she was safe as Rice arrived at the store.
She said it was horrible waiting for word about her child.
"You don't know if it's your daughter or not. You don't know who's being bullied. You don't know who is being picked on. You don't know anything. It could be anybody," Rice said.
Lanie Walter, who is a senior at the school, heard ambulances on her way to campus but didn't think much of it until her first class was locked down.
When she called her parents to tell them she was safe, "my mom was actually really relieved because she was watching it on the news," she said.
Parents were bused to the school to be reunited with their children. Some cut through a nearby field as they rushed toward their kids in emotional reunions. Other students who got permission from their parents left campus on their own.
The Glendale Union High School District alerted parents to the shooting through emails and automatic phone calls and released information on social media, Superintendent Brian Capistran said.
Students typically are not allowed to use their cellphones during lockdowns, but as calls from parents flooded the district, officials asked teachers to have students call family, Capistran said.
Social workers and counselors will be available to students and staff when school resumes Tuesday, the superintendent said.
Minnie Kramer, mother of a 15-year-old student, said she rushed out of work when she got a text from her son right after the shooting, telling her that he was OK.
As she waited to be reunited with her son, Kramer said she worried about whether any of his friends were harmed.
"I know that my son is OK, but, emotionally, you don't know what it does, especially at 15, especially if it's someone he knew," Kramer said.
Copyright AP - Associated Press