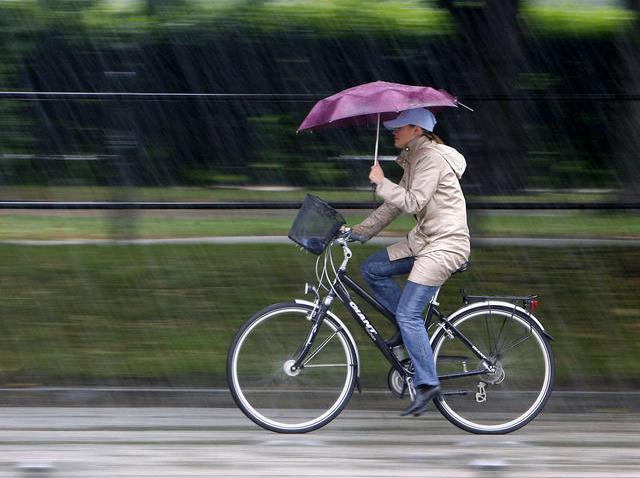 It was a wet start to the day -- next comes the wind.
Light rain started falling early morning and more is on the way. In addition, a high wind warning is in effect for the mountains and deserts where gusts have already exceeded 40 mph and could hit 60 mph before the storm moves east.
It is the winds rather than the rain that is the biggest concern as the main body of this latest storm moves down the coast toward San Diego County.
West of the mountains the winds are expected to pick up later today and could exceed 25-35 mph at times even at the coast.
The National Weather Service high wind warning will remain in effect through Thursday evening. While driving is expected to be most hazardous in the mountains and deserts residents and drivers throughout the county are advised to use caution as they could experience strong, sudden gusts just about anywhere today, tonight and tomorrow.
In the desert, the NWS is warning of decreased visibility – at times, less than a quarter mile --- due to blowing dust and sand.
We asked our Twitter followers and Facebook fans what bugs them most about people driving in the rain. Here is a sample of responses:
@SDdiverPaul: No matter if rain or dry driving, people drive too FAST, too CLOSE & still on their cell phones!
@ericharmatz: It annoys me when drivers have no consideration for others on the road, especially during inclement conditions.
@marksherwin: Saw someone texting this morning. SD drivers won't change. Rain or shine.
@scottrq: That people just don't think, just slow down!!!
@t_cook_3: Speeding!
@evilempiresd: I hate when people drive at the norm speed or faster during foggy/rainy conditions. Creating a road hazard for other drivers.
@ahicks4: People driving as if it's not raining, i.e. too fast, and causing accidents. This slows traffic even more!
Julie Cottam: That they do not know how.
Maya Walden: They speed and jump across lanes in the rain.
Bill Bow: That annoying driver with the turn signals still flashing. (Not bad during the day, but you can see them for miles when it's raining)
Maureen O'Sullivan Quillopo: The lookie loo's
Stephanie Lynn Hadfield: That people still don't have a brain when it comes to driving!! Rain or no rain people still go fast and are still self-centered and think they own the road like they are the king or queen of the road!!
Cecilia Pacheco Kiehl: Speeding in and out of lanes on the freeway and at the other end of the spectrum, going TOO slow. It's rain, people, not ice!
Let us know what you think. Comment below, send us your thoughts via Twitter @nbcsandiego or add your comment to our Facebook Fan page.