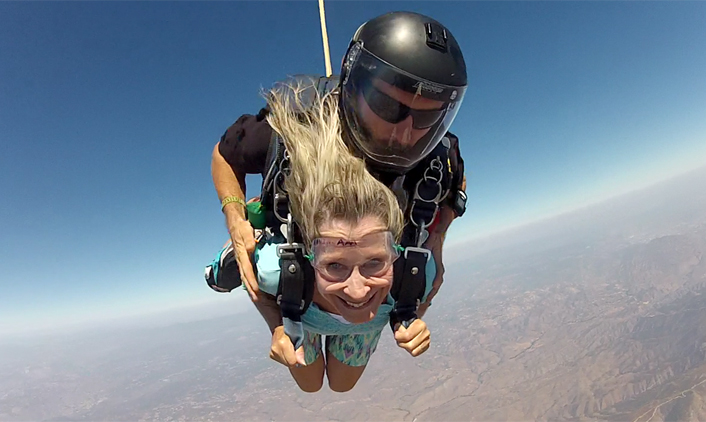 Two thrill-seeking sisters took to the San Diego skies Friday to celebrate their 65th birthday by jumping 13,000 feet from an airplane.

Twins Shirley Vos and Sharon Gebauer went skydiving for the first time ever together, taking the plunge over San Diego's Jamul area with a professional skydiving group.

Despite the ominous date of their birthday this year – Friday the 13th – the sisters happily boarded the plane and told NBC 7 they were very excited for their airborne adventure.

"I'm not a bit afraid, which is scary. That's what makes me afraid," Shirley Vos told NBC 7 minutes before boarding the plane and taking the plunge.

Vos said the high-flying birthday activity with her sister meant "excitement, challenge and fun" -- three concepts by which they choose to live their lives.

Gebauer admitted she was a tad nervous before boarding the plane, and was more scared about landing than actually jumping.

However, the thought of the excitement and sights ahead calmed her nerves.

"[I can't wait] to be able to float like a bird and see the beautiful scenery and live life to the fullest," she said.

Gebauer said her husband passed away a few years ago, which made her want to seize life each and every day.

"You know, life, you have to live it because you never know what's going to happen the next day, you never know what disease you're going to get. You have to live life and enjoy it, you only get one," she said right before the jump.

Seconds later, she added jokingly, "Did I remember my Depends?"

Once in the airplane, GoPro footage showed the sisters holding hands (see photo below), anticipating their big jumps while looking out the airplane windows.

With both strapped to their own skydiving expert, the sisters jumped into the open sky, soaring and flipping about as they descended.

Vos jumped first because she's the older twin – born before Gebauer by 13 minutes.

Once they landed safely, the skydiving sisters were exhilarated.

"It was awesome! What an experience," Gebauer told NBC 7.

"Freefalling is to die for! It was amazing. I'd do it again," added Vos.

In the past, the adventurous sisters have celebrated their birthday by doing other thrilling airborne activities including paragliding, parasailing and a hot air balloon ride.
Naturally, they said it only seemed fitting that they try their hand at skydiving this year.