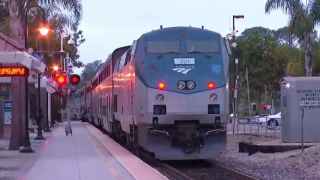 A man was hospitalized Thursday when his pickup truck and a train crashed in Oceanside, according to the San Diego Sheriff's Department.
The crash was reported near Cassidy and Myers streets between the Carlsbad Village and Oceanside transit centers shortly before 5 p.m., according to the San Diego Sheriff's Department.
An Amtrak train was traveling at a speed of 60 mph and sounded its warning horn when a white pickup truck traveling westbound entered the railroad. Unable to stop the train, the Amtrak and truck collided.
The driver of the pickup truck was the sole occupant of the vehicle and was life-flighted to Scripps La Jolla Hospital for treatment. The severity of his injuries is unclear.
The North County Transit District (NCTD) said a southbound Pacific Surfliner 580 was stopped due to a vehicle on the tracks.
Passengers were bussed between two transit stations while train traffic was halted, NCTD said.
Anyone with information on the crash is urged to contact the Sheriff's Department at 858-565-5200.