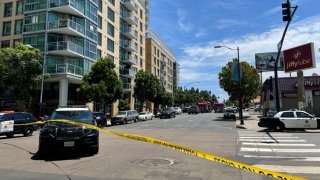 The "suspicious device" found Wednesday in the East Village turned out to be suspected methamphetamine, according to the United States Drug Enforcement Administration (DEA).
SDPD received a call of a suspicious device and a white, powdery substance near the intersection of 10th Avenue and B Street. Images from the scene showed officers shutting down the intersection as they responded to the report.
Later in the day, officials said a woman pulled into a Jiffy Lube at that location when she saw smoke coming from beneath her car. Two large bundles were discovered beneath her car, wrapped in black tape with some sort of device attached.
The DEA later said they took custody of approximately eight pounds of suspected methamphetamine.
Investigators removed the packages and later determined that the packages were not dangerous and the incident was not related to Comic-Con, a San Diego Fire-Rescue chief told NBC 7.
No one was evacuated due to the incident.
The DEA and SDPS are jointly investigating.