Two people were killed Wednesday night after they were hit by a suspected DUI driver in National City, according to police.
A teen girl and a man who were crossing the street near the intersection of East Plaza Boulevard and Harbison Avenue were struck by the driver sometime around 10:20 p.m., according to Sgt. Camacho of the National City Police Department.
Officers found the pedestrians on the ground and the driver still on scene in the vehicle. The girl died at the scene and the man succumbed to his injuries while at Scripps Mercy Hospital, Camacho said.
The teen victim's mother, Kristen White, identified the pair as Jessica Talamante and Brian McKee. White said McKee was her boyfriend, and that he, Talamante and Talamante's 20-year-old sister Aliyah Arroyo, who survived the collision, were crossing E. Plaza Boulevard while walking home from a nearby store when they were hit.
A small memorial with candles, photos, cards and stuffed animals was growing near the accident site Thursday. White was there nearly all day.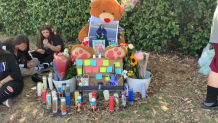 "She didn't deserve it, she was sweet. She was going to turn 16 July 6," White said describing her daughter. "My daughter was such a good girl. She was happy, she was innocent. She was like my best friend, too."
White described McKee as a good man who would do anything for her family.
"Brian was a good guy. He did everything for me, everything for the kids," she said.
Now, White can only hope for justice and pray that her tragedy brings awareness to the dangers of driving drunk.
"You shouldn't be driving drunk. Take a bus, take an uber, take the trolley," she said. She also called for better lighting at the intersection.
Camacho said the driver, identified by NCPD Thursday as 43-year-old Tayishe Baltys, showed symptoms of being drunk and was arrested as a result. Baltys faces two counts of gross vehicular manslaughter and two counts of DUI resulting in bodily injury. She is being held on $1 million bail, and her arraignment is scheduled for Friday afternoon.