When six San Diegans dressed up as The Avengers for San Diego Comic-Con this year, they could never have imagined what they were starting.
"It all started as a little, loving joke because we're all combat veterans," said Randy Vaccaro, who dressed as the Hulk for the convention, "and it turned into this epic superhero thing."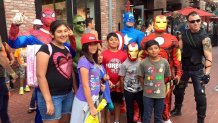 When they were serving in war zones, they all wished they had superhero powers. That's how they got the idea.
Vaccaro said by the time he and his veteran pals left the convention center, photos of them were all over the internet. The adventure inspired them, and they decided to commit themselves to serving a new mission on the home front: work as a team to help other veterans, from every walk of life.
They've become involved with veteran services organizations, including Team Red, White and Blue and Veterans Village of San Diego.
"Who doesn't love to be a superhero? But at the same time, we're just reaching out," Vaccaro said. "We're not getting paid, we're not doing it for publicity. But we know where we came from, and we know how bad it gets."
And it got bad for Vaccaro. The U.S. Marine served several tours of duty in Iraq and Afghanistan. He witnessed a sniper kill two close friends of his in Fallujah. He suffered a traumatic brain injury as a result of several roadside bombs.
When he came home, he dealt with anxiety and depression. He eventually ended up homeless in Las Vegas. He said it took being referred to San Diego for treatment to finally find the help he needed to get back on track.
His fellow "Avengers" all have their own stories of struggling after serving our country.
Rod Gabriel, who dresses as Ironman and handles public relations and event planning for the group, served in Iraq with the army from 2003 to 2004. When he came home, he also battled addiction, anxiety and depression.
"From prisons to loss of family friends, jobs, basically losing everything. I thought that I was alone in this battle," Gabriel said.
But after meeting the other veterans in the group, he said realized he wasn't alone.
"Hearing their stories and sharing mine has been the most therapeutic thing I've ever done," Gabriel said.
"The Avengers group was a strong brotherhood that made the process for me possible," agreed Abe Ortega, whose alter-ego is Spider-Man. He enlisted in the army when he was 18 and served in Afghanistan.
Other members include Anthony Pacitto, who served doing intel work in Iraq and is known as "The Thing" because of his size. Veteran James Larrabee is known as Hawkeye. There's also Sean Reed, nicknamed Captain America, who earned two purple hearts serving as an Airborne Infantry Soldier in Iraq and Afghanistan.
"As we have gained momentum in our small group, we've been able to expand to helping many other veterans and point them in the right direction," Reed told NBC 7.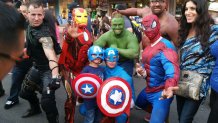 One of their main focuses is the Combat Crisis Team. The guys frequently hear from veterans who desperately need to talk to someone who will understand their challenges first hand.
"I get a call four to five days a week, if not every day, from a veteran that needs help," Vaccaro said.
Recently, a veteran in North Park called to say he was going through a divorce and had been discharged from the armed services. Vaccaro said he believes the outcome for that veteran could have been tragic, if his team wasn't able to step in with support immediately.
"It's not all pretty, all the time," Vaccaro said. "But it definitely works."
Another big endeavor for the men is becoming involved in planning Stand Down, the annual three-day event that aims to pair veterans with services. Vaccaro said it's a natural fit for him because he worked as a logisitcal operator in the Marine Corp.
The team members have been scattered throughout San Diego, and usually meet up a few times a week. Just recently, three of them decide to become roommates. They plan to make their new home into their own version of Avengers Headquarters, a place where they can work on their superhero-sized plans to help fellow veterans.
"My only goal in our mission is to prevent another veteran from suffering what I went through," said Gabriel. "To spread the message that they are not alone and that it's okay to ask for help."