Two suspected thieves, a man and a woman, entered a jewelry store in Encinitas by removing the Plexiglass windows and stealing about $30,000 worth of jewelry.

The burglary occurred on Aug. 22 around 4:30 a.m. inside the Three Sisters Jewelry Store on South Coast Highway in Encinitas, the San Diego County Sheriff's Department (SDSO) confirmed.
SDSO released photos of the suspected thieves Thursday.
The woman, identified to be Lily Ceolho, has a felony warrant out for her arrest. She is still at large, Sheriff's officials said.
The second suspect is a man between 35 to 45 years old. He has a long brown scraggly beard and brown scraggly hair, last seen wearing a black t-shirt and a black flat bill hat.
They were driving a small white single cab pickup truck that had a black hood and a black stripe along the bottom sides with black rims, according to SDSO. The truck may be a Ford Ranger or Mazda B-Series truck.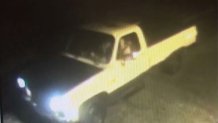 Anyone with information is asked to call Crime Stoppers at (888)580-8477 or the North Coastal Sheriff's Station at (760)966-3500.