San Diegans headed to the polls on Super Tuesday to cast their ballots in the California Presidential Primary Election.
There are 1,548 polling locations across San Diego County, which will be open Tuesday from 7 a.m. to 8 p.m. The San Diego Registrar of Voters website has details on the locations of those polling places here. Voters can type in their address on that website, and click submit to find their neighborhood polling place.
"If you're registered, make sure you get to your assigned polling location. All registered voters in the county are assigned one of 1,548 precincts today," Michael Vu, of the County of San Diego Registrar of Voters said Tuesday morning.
Vu said 8,000 workers would staff local polls Tuesday.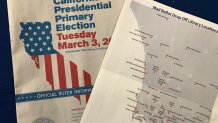 Mail ballot voters can drop off their ballots from 7 a.m. to 8 p.m. Tuesday at one of 61 libraries across the county, or at any of the 1,548 polling places. If sending your ballot by mail, those ballots must be postmarked by Tuesday.
According to Vu, more than 1.35 million mail ballots were sent to local voters. Mail ballots will also be accepted at the Registrar of Voter's Office on Overland Avenue in Kearny Mesa.
Vu said of those 1.35 million mail ballots, a little over 350,000 had been turned in by early Tuesday.
"What I anticipate is that we're going to have a good percentage of the votes into the count tonight, but a lot of ballots - mail ballots and provisional ballots – will be dropped off today or cast today, and we'll be processing them after election day, all the way through the certification of the election," Vu said.
Vu said that in the last election, 43% of all votes cast in San Diego County were counted post-election day.
"So, if there are close contests out there, it might go down to the wire, because we'll have plenty of mail ballots and provisional ballots to still consider," Vu said.
He expected to see voter turnout similar to the 2016 Presidential Primary, with 50 to 51%.
If you're not registered to vote and want to take part in the March 3 election, you can visit the Registrar of Voters office or a satellite voting location to both register and vote. Those who plan to use that service Tuesday should expect long lines. You can check wait times for satellite voting locations online before heading out.
"If you are wanting to vote in this election, you've got a 13-hour window to make your voice known," Vu told NBC 7. "This is the time to know where your polling location is, determine whether or not you're registered, and if you're not registered, get to one of our satellite locations."
To learn more about what's on the ballot before you head to the polls, read this guide.
---
Locals at the Polls
The Registrar of Voters Office was buzzing bright and early with San Diego voters, including Escondido resident Kate Crouthamel. Up until this election, Crouthamel said she had only voted through an absentee ballot so, for her, heading to the registrar to vote was meaningful and exciting.
"It was important to be down here today to make sure that I had the correct party affiliation so that I could vote for the candidate that I want to choose to represent myself," Crouthamel told NBC 7. "The people that I elect – I know that they represent more than just me, but also other people who believe the same things I do, who are passionate about the same things and it's important that we are able to have our voices counted for."
Poway resident Joshua Simon said he never received his mail-in ballot, so he got himself to the registrar office Tuesday to make sure he could vote.
He said taking time out of his day to vote was a priority.
"We can give up three minutes to do this. That's, I think, a necessity," Simon told NBC 7. "It's our basic right as American citizens to come in and vote and this is how the democratic process is. This is how we get things passed to – you know, improve our schools and improve our city."
San Diegans Show Off 'I Voted' Stickers
Ramona resident Juan Cortes is 18 years old and a first-time voter.
"I was really excited to do it," Cortes told NBC 7 after casting his ballot. "My family has always been into politics and all, so I'm following along in their footsteps."
Cortes said he studied his sample ballot ahead of visiting the poll Tuesday and also researched the candidates and measures before making his decisions.
The rite of passage came with a reward: the famous, patriotic "I Voted" sticker.
"And they gave me the sticker – it was cool," Cortes said. "Because I always used to get my mom's sticker; she'd give it to me after."
Cortes said he believes every single vote counts in the election.
"Having a voice is the biggest thing to me," he explained. "It may not seem like it's the biggest thing – you're one in millions of billions of people – but in the end, each vote makes a difference."
San Diego resident Rebecca Gonzalez has voted before, but this Super Tuesday marked the first time she's ever voted at the Registrar of Voters Office. She felt great after casting her ballot.
"It really didn't take much of my time. I actually feel more involved and I actually feel really great now," Gonzalez told NBC 7. "So I would say just do it. It really took 20 minutes of my time."
Pierce Najera switched from being an Orange County voter to a San Diego County voter in this election. Participation, for Najera, was also a big deal.
"I think it's really important to [vote] especially because our participation in this country is super low, so I think it's super important to do that, especially for my generation, the younger generation," Najera explained.
Voter Abigail Buckle told NBC 7 that participating at the polls is a way to give thanks to those who've made voting possible in the U.S.
"I mean, there were people in the past that fought really hard for us to have the right to vote, especially for women and people of different races and ethnic backgrounds, so everyone should come out today," she said.
Hector Barajas-Varela, a U.S. military veteran, was deported more than 12 years ago. In 2018, he was granted U.S. citizenship. On Tuesday, he planned to vote in the Los Angeles area for the first time ever as a U.S. citizen.
Deported Veteran, Now a US Citizen, Prepares to Vote for First Time
Few problems at San Diego polling places were reported Tuesday.
A polling place set up the Hillsborough Recreation Center in Bay Terraces was forced to close due to a small electrical malfunction, and voters were redirected to polls at Boone Elementary School, just a few blocks away, according to Michael Vu with the Registrar of Voters.
Vu also said a head precinct inspector didn't show up to a polling place at Saint Luke Catholic Church in El Cajon, and couldn't confirm local media reports that said voters were turned away from the church.