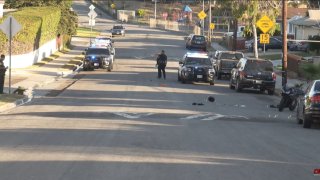 A man is dead after a shooting in National City Saturday, the National City Police Department said.
Officers received calls about a person down and several shots fired in the area of El Toyon Park around 5:40 p.m., NCPD said.
Once arrived at the scene, officers found a man on the ground suffering from several gun shot wounds. Paramedics at the scene transported the man to a local hospital where he died, police said.
It was not immediately known what led to the shooting.
The man has been identified as Caleb Darryl Stacy, 28, of San Diego, police confirmed.
Police said there is no suspect information available at this time. NCPD is asking for assistance from the public. Anyone who may have information related to this incident is encouraged to call the National City Investigations Division at (619) 336-4457 or San Diego Crime Stoppers at (888) 580-8477