A woman was arrested Thursday on suspicion of arson after a fire was set at an independent living home in San Diego's Palm City area, officials confirmed.
Flames and smoke ripped through a single-story house in the 2200 block of Donax Avenue just before 11:40 a.m.
San Diego Fire-Rescue Department (SDFD) Battalion Chief Mike McBride told NBC 7 one resident suffered smoke inhalation and had to be taken to the UC San Diego Burn Center.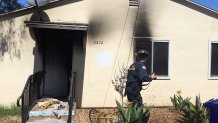 McBride said a woman was arrested at the home for allegedly intentionally starting the fire. The woman, he said, admitted she set the small home ablaze.
The residence is home to several people, all of whom have unspecified medical conditions. A nurse who works there, who wished to remain anonymous, told NBC 7 the suspect shows signs of schizophrenic behavior.
McBride said two people were inside the home when the fire started. The blaze began in the living room, where there are several beds.
Two San Diego Police Department (SDPD) officers who were the first to arrive at the scene of the fire were also treated for smoke inhalation, officials said.
Metro Arson Strike Team officials will launch an investigation to determine the cause of the fire.