Several witnesses described a "trail of blood" and a horrific scene inside a Chula Vista condo that resulted in the death of a man in August 2015.
The testimony was part of a pretrial hearing for Saul Jonathan Orozco who was 19 years old when he was arrested in the stabbing death of his friend Carlos Guitierrez. Orozco has pleaded not guilty to one charge of murder.
Guitierrez, was chased down and stabbed to death on August 4 in the Casa Lago Condominium complex, witnesses told Chula Vista Police.
His attacker followed him, straddled him and stabbed him to death, investigators told NBC 7.
Michael Kennedy was inside his home when he heard two men fighting.
When he looked outside, Kennedy said he saw two men struggling, with their hands on an object. One of the men was bloody, he said.
Kennedy grabbed a bat and followed the men into a nearby condo.
"I saw the defendant on top of the other guy stabbing him multiple times," Kennedy said, using both of his hands in a downward motion to describe what he saw.
The men were fighting over a kitchen knife similar to a 9-inch slicer, Kennedy said.
"I've spent time in Iraq and I've seen blood but nothing like that before," Kennedy said.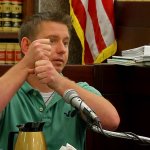 After the attack, when the defendant came out of the condo, almost a dozen neighbors surrounded him, neighbor Nathan Schmid testified, including one man who held a gun.
Schmid also heard a loud commotion and saw two people in a fistfight in the bushes of the complex.
"We followed the trail of blood to see if we could help," Schmid testified.
He found Giutierrez pleeding profusely from his head, he said.
"The gentleman said 'I'm bleeding. Please call the cops,'" he testified.
Prosecutors say Orozco attempted to flee from the scene after the incident occurred but was caught by police about a quarter of a mile away.
The victim and the defendant were friends and were hanging out with others before the incident, one of the friends testified Wednesday.
Carlos Armando Barrios recalled that Orozco was acting so odd, Guitierrez asked him to leave.
"He began throwing rocks from the patio at us," he testified.
"He didn't seem like Saul he was acting different it wasn't the Saul I knew," he added.
Barrios and a friend left Orozco alone with Guitierrez. Later, when he saw police cars at the complex, he testified that he was concerned something may have happened between the two men.
After Wednesday's hearing, new charges of torture and an allegation of causing great bodily injury were added to the charges Orozco faces. He's expected back in court in June.
The Casa Lago complex is located near the Otay Lakes Reservoir and the Olympic Training Center in the Eastlake community of Chula Vista.