On July 2, 1966 the Ocean Beach Pier opened to great crowds, parades, and bathing beauties; fifty years later it's still going strong.
The pier celebrated its fiftieth birthday Saturday with more crowds, nostalgic photos and a backdrop where people could take a selfie to make it look like they were at the opening. The original contractor and the man who commissioned the pier, both in their late 80s, were also on hand to answer questions.
In 1966 there were only about 600,000 people living in San Diego and 7,000 of them showed up for the opening.
"Today's a big day because it's not only the year of the pier, it's the day of the pier," Barbara Iacometti, President Ocean Beach Main Street Association, told NBC 7.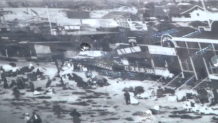 A pier was going to originally be built in the '40s out of stainless steel, but when the war broke out stainless steel was rationed so the project was scrapped.
While the pier was under construction the community decided to raise an extra $100,000. They brought it to the contractor and said 'can we have more pier?'" Iacometti said.
Originally called the San Diego Fishing Pier, it is 1,971 square feet, and is the second longest pier on the west coast. It is also likely the longest concrete pier in the world.