After weeks of powerful storms that dumped record-breaking rainfall across the County, Lake Poway is close to overflowing, though there is no imminent threat of water spilling over at this point in time.
The water level at the lake is about one foot from overflowing, said Eric Heidemann, Public Works Operations Manager with the City of Poway.
However, Heidemann said, officials are not expecting the dam to overflow. The current level is not rising to the point of concern, Heidemann said.
The amount of water flowing into the dam has gone down from 2,000 gallons of water per minute to less than 1,000 gallons of water per minute, Heidemann said.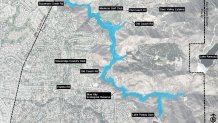 No citizens are in immediate public danger, the City said. About 18 properties, including Maderas Golf Course, were notified as a precaution. City officials will use AlertSanDiego to notify the any additional affected residents.
If the water were to flow over the spillway - a 100-foot wide span of concrete on the east side of the dam - it would be diverted into a canyon below.
The water would flow into the canyon north of the Lake Poway Dam if it spilled over. The water would then flow into the canyon, through parts of the Blue Sky Ecological Reserve, under Old Coach Road, along Thomson Creek adjacent to Maderas Golf Course and, ultimately, into Lake Hodges.
Lake Poway hiking trails and the Blue Sky Ecological Preserve will be closed until further notice.
The dam was inspected Tuesday morning and remains structurally sound, city officials said, though staff will continue to monitor the dam and inspect it every two hours.
City crews are working to lower the level of the lake by diverting water to the City's drinking water system.
Lake Poway was built in 1971. It holds 33,000 acre feet of water, or about 1 billion gallons. The last time water overflowed from Lake Poway was 1997.
Earlier in the day, the Lower Otay resevoir crested and began to spill into the natural Otay River Valley system. The reservoir last spilled over in 2011.