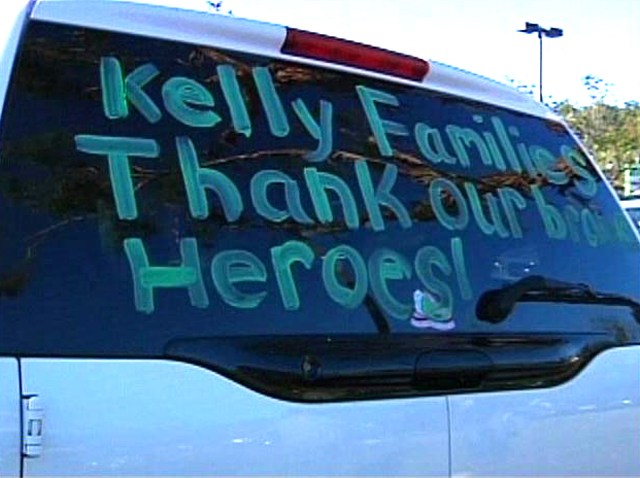 Three construction workers who tackled a suspected gunman on a Southern California school playground were greeted with hugs from parents and children on Monday.

The crowd outside Kelly Elementary in Carlsbad yelled, "Viva Kelly," while handing out baskets and flowers to their hometown heroes. Carlos Partida said he got more hugs than he could count on Monday.

"They're smiling and giving me hugs," Partida said. "It's a more soothing feeling for me after everything. A bunch of interviews, a bunch of things for me to take in in my head. I feel better after seeing them two girls back to school and smiles on their faces for sure."

The workers -- Steven Kane, Mario Contreras and Partida -- are credited with tackling Brendan O'Rourke, who was arrested for investigation of opening fire on children at the playground Friday.

"My foot is a little sore from kicking him, but other than that, I'm alright," Partida said.
At the picnic, the wounded girls hugged Partida.

"I think this is the biggest thank-you I've ever seen," he said after the ceremony.

Partida said the gunman pointed his revolver straight at him when he was about 10 feet away. He and the other workers yelled at him to put the gun down but didn't hesitated to act because they feared he would kill a child.

Partida is single but said he has nieces and nephews of school age.

"I would expect someone to do the same," he said after the ceremony.

As he left the picnic, parents gave Partida a case of beer and three bottles of tequila. One mother ran to hug him.

Partida said he and the others will return to work Wednesday to complete the cafeteria then go on to search for new work.

Terry Lynn, who lives across the street from the school, and another neighbor, Scott Chandler, also were given gift baskets and cards because they had run to help during the shooting.

"I came down here this morning because I needed it for me, for therapy," Lynn said. "It was wonderful to see the kids playing. You know, it was like a weight being lifted off my shoulders"

"I still get choked up seeing the little girls with bandages," he said.

During the ceremony on Monday, a student ran out of the crowd to give one of the workers a high-five before two grateful parents offered him hugs.

"We're not talking about a tragedy; we're here to celebrate a miracle," Tressie Armstrong, the school's principal, said before school.

The two shooting victims, ages 6 and 7, were each struck once in the arm by a bullet. A friend of the family of one of the girls said the bullet went through her arm. However, both are on the mend and, in fact, were back at school Monday with wearing casts.

"They're out there on the playground playing, so what else can you say?" said parent Debbie Beers. "They're playing and having a great time.... They walked 'em around the playground where it happened, and they did fine, and they're anxious to get back to playing."

O'Rourke was booked for investigation of attempted murder. The district attorney's office is awaiting a police report to file possible charges.


Copyright AP - Associated Press