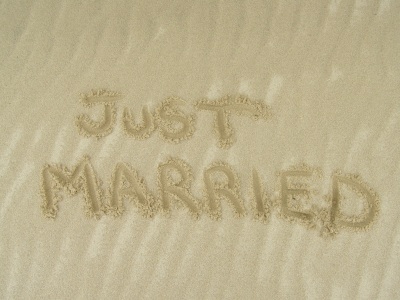 Most people don't expect to fall in love later in life, but it can certainly happen.

The last thing Ernie Wright thought about when he moved to San Diego from New Orleans was that he would fall in love. He was married twice before -- once for more than 50 years.

So you can imagine his shock the day he met his next-door neighbor Dorothy while they were in the hall sorting dirty laundry.

"She came known as Dorothy 'across the hall' and I became known as Ernie 'across the hall' and as long as we had the same name which was 'across the hall' I just decided to ask her to marry me and I did and she did," said Ernie.

Dorothy and Ernie are newlyweds. They're also in their nineties.

The couple fell in love in 2008 when Ernie moved in across the hall from Dorothy at St. Paul's Senior Homes and Services in Bankers Hill.

"What's he say to me? 'Have you ever read Pillars of the Earth?' And I go, 'yeah'," said Dorothy.

And that was that. An avid reader, Dorothy was smitten. Now the two are inseparable.

"I love it when she rubs my chin," Ernie told us.

"Do you? Oh, I didn't know that," said Dorothy.

Ernie is blind. Dorothy helps him navigate around St. Paul's Senior Home and she sits next to him every Monday, Wednesday and Friday when he teaches aerobics.

"You know all women have mirrors and I know what I look like and one day we were walking down the hall and we stopped, I don't know, to look at something and he said 'you know you're beautiful' and I thought wow that's the first time that happened in my life. And I said, 'well if you could see you wouldn't say that,' and he said 'oh, I don't mean that kind of beauty'," said Dorothy.

The two were both married before and never expected to fall in love again this late in life. But, they say, some things are just meant to be.

Ernie and Dorothy's marriage advice for younger couples is don't expect too much, and work through problems as a couple.