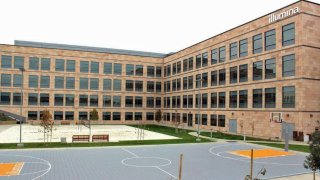 San Diego Mayor Kevin Faulconer and representatives from the biotech firm Illumina met Tuesday to announce a $1 million donation to support underprivileged students and essential workers.
The donation comes as part of a #GivingTuesday celebration that also happens to land in the middle of Teacher Appreciation Week.
"When we have these darker times, that's when the true heart and spirit of San Diego steps up and the true heart and Generosity of the city shines through. San Diegans are helping San Diegans," Mayor Faulconer said.
Illumina has partnered with the San Diego Unified School District and the San Diego Foundation to make the donation a reality. Around $700,000 will be dedicated to STEAM education initiatives within the district, and it will also provide technology devices to students who don't have access to the internet.
The rest of the funds will help purchase PPE and other critical equipment for frontline health care workers
Illumina is playing many roles in support of the fight against COVID-19, including DNA sequencing research, vaccines and therapy development, and surveillance and screening technology, according to CFO Sam Samad.