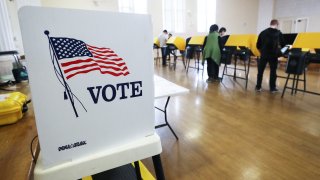 This article was updated with the latest results at 8 p.m. Saturday.
San Diego County residents voted on Super Tuesday and while ballots continue to be counted, their voices were heard as results began to trickle in overnight.
Several changes were up for grabs in the county, such as the San Diego's mayor, several measures and more. Despite most of the county's precincts turning in their reports, the results aren't set in stone as the Registrar's office continues to count the ballots for at least a few more days. However, this is what the precincts are so far reporting:
Presidential candidate
Residents in the county overwhelmingly favored President Donald Trump as the Republican candidate for November, while Sen. Bernie Sanders led Democrats with about 32% of voters' support, followed by former Vice President Joe Biden at 27%.
For other parties, Phil Collins was the leading Independent candidate with 29% of support. The Peace & Freedom party's leading candidate was Gloria La Riva with 64% of support while Libertarian voters had Jacob Hornberger in the lead at 22%. Meanwhile, Howie Hawkins led the Green party with about 37% of support.
Decision 2020
More on Super Tuesday in San Diego
San Diego Mayor
Democratic Assemblymember Todd Gloria of California's 78th District led the polls with about 41% of support on Tuesday, with Scott Sherman of the San Diego City Council following at 24%. Sherman led Councilmember Barbara Bry by 1,701 votes at 8 p.m. Saturday.
Measure A
Just more than half the percentage of voters in the county rejected the development measure that would require the public's vote on most large housing projects in semi-rural areas. It had 51.4% of voters reject the initiative.
Measure B
About 58% of voters rejected Measure B, which entailed voters affirming the Board of Supervisors' approval of the 2,15-home Newland Sierra Project.
The initiative to increase hotel tax in the city to fund a convention center project, fix roads and help homeless programs has received about 64% of support. It was just shy of required 2/3 of voters on Saturday night.
Measure D
Voters in San Diego overwhelmingly showed support for this measure with 81% of voters in favor of it. The measure called for a change to the city charter, moving the appointment of the city auditor from the Mayor to the City Council from a list of three candidates. Terms would be limited to two five-year terms.
Measure E
Chula Vista voters were so far in favor with about 66% of this measure, which allows the city to receive state funding for infrastructure projects that use project labor agreements.
Measure G
In Del Mar, about 59% of voters so far have rejected the Marisol Specific Plan, which would have allowed to 17-acre resort project to move forward. It promised the construction of condos, a resort hotel and businesses above Dog Beach.
Measure S
The majority of Lemon Grove voters rejected a measure to raise the city's sales tax with about 57% of voters rejecting the measure.
Measure H
National City voters have so far been in favor of a measure that appoints the offices of city clerk and treasurer instead of electing them. The measure had about 53% of support.
Measure J
Also in National City, the majority of voters supported the measure to requires pet stores to get their animals from shelters or rescue groups. As of Saturday, about 60% of voters supported the measure.
Measure K
In Oceanside, nearly 75% of voters rejected a measure that would change the city's City Clerk and City Treasurer positions from elective to appointive.
School bonds
There were several school bonds on the ballot on Tuesday that required 55% of support in order to pass.
More than half the population of voters in Chula Vista and Escondido voted in support of approving bonds for schools, but likely not enough to allow the measure to advance, early results show. The bonds measures had exceeded 65% for San Ysidro schools, however.
As for Cajon Valley, Lakeside Union and Poway Unified schools, more than half of voters rejected the motion.
Prop. 13, the only statewide proposition on the ballot, had 56% of voters rejecting the measure, per early results. It promised to commit $15 billion dollars in bonds for facility repairs in California schools.
U.S. Representative - 49th District
When it came to the county's U.S. Representative for the 49th District, incumbent Rep. Mike Levin led the polls at nearly 57%. Levin and challenger Brian Maryott will automatically progress to the general election.
U.S. Representative – 50th District
Ten candidates vied to represent the 50th district in the House of Representatives after the seat was vacated by convicted Rep. Duncan Hunter. The lone Democrat in the race, Ammar Campa-Najjar led the polls with about 36% of support.
Campa-Najjar is guaranteed to face a Republican in the November election. The top two Republican candidates leading the race were former Congressmember Darrell Issa with about 23% of the vote and former radio talk show host Carl DeMaio with about 21% of the vote, early tallies show.
U.S. Representative – 51st District
As for the 51st District, incumbent Juan Vargas had more than double the support of his opponent, Juan Hidalgo Jr., with 71%. Both candidates were guaranteed to make it to a November runoff.
U.S. Representative – 52nd District
When it came to the state's 52nd district, incumbent Scott Peters had the majority of voters' support with 49% of residents in his favor, early results show. Candidate Jim Debello secured about 34% of the vote.
U.S. Representative – 53rd District
Democrat Sara Jacobs led the polls with 29% of voters supporting her to represent the 53rd district. She will likely face Democrat and City Councilmember Georgette Gomez, who had 20% of the vote at last count.
County Board of Supervisors District 1
Leading the polls to represent District 1 as a member of the Board of Supervisors was Ben Hueso, who garnered about 30% of voter support. Neck and neck for second was Nora Vargas with 17.27% and Rafa Castellanos with 17.06% of the vote.
County Board of Supervisors District 2
As for District 2, Joel Anderson led the polls with 36% of votes in his favor. Poway Mayor Steve Vaus secured 32% of the vote and would likely face Anderson come November.
County Board of Supervisors District 3
When it came to the potential swing District 3, Kristin Diane Gaspar garnered 44%. In second, Terra Lawson-Remer secured 31% of the vote.
San Diego City Attorney
With the majority of voters in her favor, Mara Elliott led the polls for San Diego City Attorney at about 68%. Attorney Cory Briggs, with 23% of the vote per early results, will likely oppose Elliott in November.