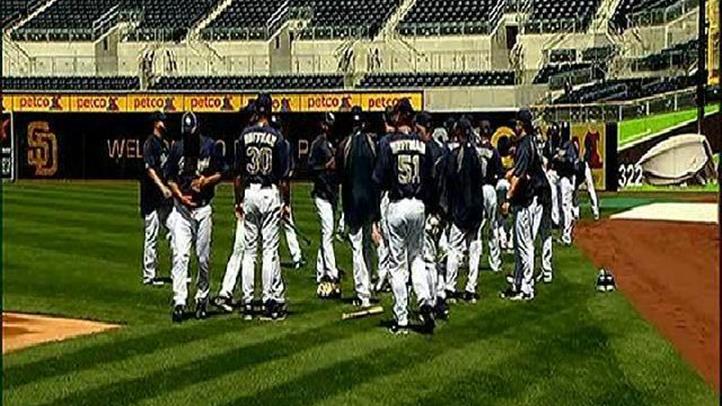 Baseball season is here and for most of us, that means hot dogs, beer and enjoying the game under the stars.

But for local East Village businesses, game time means large crowds coming through their business.

"One word to describe it is overwhelming. We are going to have so many people here. It's going to be three people deep at the bar, an entire patio full, and an entire restaurant full. We really want to keep a good eating experience before people go to the ballpark," said Emma Harris from The Dragon's Den.

The Dragon's Den is a short grounder away from the ball park. The Asian-fusion restaurant is a new addition to the East Village area and this year marks just their second Padres season downtown.

Last year, the Padres season was the busiest time for their restaurant and this year they expect it will be no different.

"It really is organized chaos for the first day. It's just running around taking care of everybody and getting pumped for the fame," said Jenny Buenrastro.

The Dragon's Den will be offering drink specials throughout the season and increasing their Happy Hour specials as the season goes on.

A couple blocks over, the owners of Crunch Time, a popcorn-based snack shop, are gaming up for the season.

But this isn't their first run, the shop opened up a couple months before Petco Park was even open.

"We knew this area was being revitalized and we wanted to be a part of it," said Kim Peetney, owner of Crunch Time.

The husband and wife team say the Padres season is a big boom for them but it doesn't make or break their business.

They do say, however, that depending on how well the Padres are doing, it does affect the crowds.
"If the Padres are going well, then more fans are coming out to the game. But when they aren't, there are less fans at businesses."

Both groups agree that staying in business for them is more than relying on the Padres playing in town.

It's about keeping their local customers coming back for more.

"I think that's why we are still in business because we make you feel like family. You come in here and there is good conversation and you feel welcome," explained Peetney.

"Sure, the games affect business but we are trying to gain clientele during this time to bring locals back," added Harris.
Follow NBCSanDiego for the latest news, weather, and events: iPhone App | Facebook | Twitter | Google+ | Instagram | RSS | Text Alerts | Email Alerts