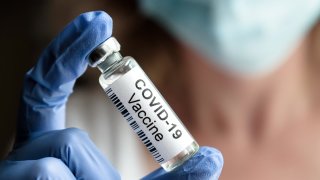 In wake of the back-to-school season, a pop-up COVID-19 vaccination site will be open Friday afternoon in the South Bay.
Eligible San Diegans can get their shots at the Chula Vista Learning Community Charter High School, thanks to Champions for Health. The limited-time event is in wake of the approaching new school year, the organization said.
"It's where students feel safe so this might be a motivator to get vaccinated," said Alicia Arambula, a school social worker.
"With the emergence of the more transmissible Delta variant, there is a renewed urgency to get all eligible Californians, especially those in vulnerable or underserved communities, educated on the importance of the vaccine and vaccinated as quickly as possible," Champions for Health said in a statement.
"It's been very unpredictable, so we're going with the flow, we're doing our best, we're listening to the scientists, we're listening to the recommendations and we're taking in all the information so that we can keep our students safe," Arambula said.
Claudia Urzua said she was initially hesitant to get the vaccine, but decided to get it at the pop-up.
"I wasn't sure at first. I was a little bit nervous," she told NBC 7. "But now, I saw that everybody was ok after the vaccine so I wanted to do it because I'm a little bit anxious."
Luna Orduno Perez, a 14-year-old local student, said she was sick with the flu a couple of weeks ago and was concerned, at first, that she may have been infected with the coronavirus.
"At first I was like, 'Oh my God, it could be COVID' but then I ate and I was like, 'No I can taste it, I'm good,'" she said. "And I got tested and I was fine."
Last year, the girl's family members were sickened with COVID-19 and quarantined upstairs in her home while she stayed downstairs to remain safe.
"It was very frightening," recalled Dolores Perez, Luna's mother. "It was a lot of stress, it was not a good thing to feel. It was a lot of fear of the unknown more than anything, more than the COVID itself."
Fifteen-year-old Erika Orozco said she waited to get the vaccine because needles make her nervous. However, she did want to get the shot and ultimately decided to get it at the pop-up since it was located at her school.
"It wasn't painful at all, like it wasn't painful at all," Orozco said. "I was panicking. I was ready to cry and kick and scream but it didn't hurt at all."
San Diego County's South Bay community was hit particularly hard during the peak of the pandemic in 2020 but in May 2021, Latinos in the region led the way in getting the vaccine.
"I really credit the fact that we were able to get Latinos engaged and ready to vaccinate to the fact that we created some really great interventions [and] were able to make sure we removed the barriers that were impacting our communities," San Diego County Supervisor Nora Vargas said.
Friday's free pop-up vaccine site will be open from 1 to 4 p.m. at 3750 Arey Dr., San Diego, CA.