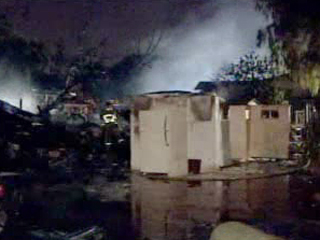 A huge fire burned a quarter of a block and prompted multiple evacuations overnight in Chula Vista, according to firefighters.

"As units were responding they saw a large amount of flames from a distance," said Deputy Fire Chief Jim Garcia. "The first units reported multiple buildings burning behind a house."

The fire department got multiple calls about the blaze, which they said burned tool sheds, a home and some other buildings at about 3 a.m. at Montgomery Street and Fresno Avenue.

Two people were treated for burns and smoke inhalation on scene but are expected to be okay.

Animal Control units were also called to the scene after reports of several dogs in the vicinity.

"At least 10 to 12 animals, looks like dogs, that were in the house. The firefighters were able to get them corralled into one bedroom with the exception of three that got out that were running around the property," Garcia said.

The cause of the fire is under investigation.

"At this time it's suspicious in nature… due to the fact that there were so many buildings burning when they got on scene," Garcia said. "It was a pretty extensive fire."

He says it's very lucky that no one was seriously hurt.

"When you walk about this premises and look at the fences and all the hazards here, we're very fortunate that none of the firefighters were injured," Garcia said.