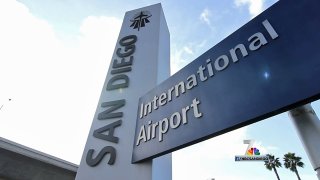 A bomb threat investigation centered on an Alaska Airlines plane landing at San Diego International Airport Monday afternoon turned up no credible threats, according to the FBI.
The "non-specific" threat concerned flight 3352 from San Francisco and was first reported by the TSA, according to Alaska Airlines. FBI agents and San Diego Harbor Police officers responded to the airfield.
"The plane was safely isolated and evacuated. The aircraft was searched and it has been rendered safe. No explosives were found. All passengers and flight crew are safe and accounted for. As this is an ongoing matter, we will have no further comment," a statement from the FBI's San Diego field office said.
Read Alaska Airlines' full statement below:
"Earlier this evening, TSA received a non-credible, non-specific bomb threat that impacted Alaska flight 3352 from San Francisco to San Diego, operated by SkyWest. We cooperated with TSA and the San Diego airport to resolve the issue. All passengers were deplaned and shuttled to the terminal without incident, and the aircraft was cleared."