Weakening offshore flow under high pressure was expected to make for fair, mild days and chilly nights this weekend, with rain predicted to arrive over Southern California either late Wednesday or Thursday of next week, the National Weather Service said.
On Sunday, afternoon temperatures will climb to seasonal levels with highs in the lower to upper 60s for most of the county, NBC 7's meteorologist Brian James said.
High temperatures along the coast Sunday were predicted to be 62-67 degrees. Valley highs will be 66-71, forecasters said. Mountain highs were expected to be 53-62. Highs in the deserts will be 64-68.
"A slow-moving ridge aloft will dominate the weather over California through Monday, before we begin to feel the effects of a large area of low pressure taking shape off the West Coast," forecasters said. "What remains in flux are the details and intensity of the precipitation."
Clouds return to the area on Monday, but rain chances won't go up until late Wednesday through Christmas weekend.
The best chance of rain will be on Thursday with widespread rain totals of more than a quarter of an inch. As cold air moves in on Friday and Saturday, a few mountain snowflakes will be possible.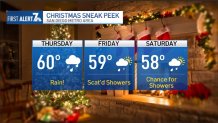 The NWS said depending on the timing of additional disturbances from the north, more periods of rain and mountain snowfall can be expected after Christmas.