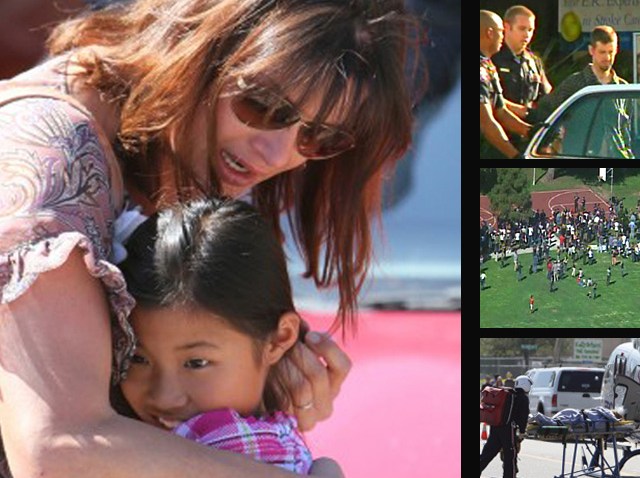 Several construction workers who tackled a gunman as he opened fire on innocent children in a playground last October are being honored with a free education.

Dressed in black, carrying a 357 magnum, pockets full of ammunition and a gas can, a man walked onto a playground at Kelly Elementary School and emptied his gun into a crowd of children, according to witnesses.

The bullets grazed the arms of two little girls, aged 6 and 7. Miraculously no one was killed, thanks, in part, to the heroic actions of several men.

"I saw the guy shooting the kids so I said, 'somebody's shooting the kids'," said Mario Contreras during an exclusive interview with NBC San Diego on Wednesday.

Steven Kane, Mario Contreras, Carlos Partida, Toby Wiest and Eddie Dominguez were working in a construction area on Oct. 8 when they heard shots and kids screaming. They ran around the building and saw a gunman, who police later identified as Brendan L. O'Rourke, 41, firing rounds as children ran for their lives.

"My intentions were just to stop him, you know, the look in his eyes he didn't want to stop at all," said Carlos Partida.

As they approached the shooter, he turned and ran towards his vehicle, which was parked near the playground, police said. As Kane and Contreras chased O'Rourke, he appeared to be attempting to reload his handgun.

Kane and Contreras chased the suspect over the playground fence. Partida jumped into his own vehicle and drove to where the suspect had parked.

"I hit him with my truck," Partida said.

He knocked the suspect to the ground and the others held him down until police arrived.

Two young girls were wounded, but no one was killed.

"We just did what we had to do," said Kane.

The Contractors State License Services are saying thank you to those heroes by giving them free scholarships.

"This is a really nice good, tangible, expression of gratitude," said West.

The classes will help some of them get their state contractor's license, which could open up many more opportunities in the construction business.
"We're all out of work, all of us, we're just kind of scraping by,"said Wiest.

"I strongly believe that learning is an invaluable opportunity that we have, because this has been given to us, I am indeed very grateful," said Eddie Dominguez.

The Marketing Coordinator for the Contractors State License Services says the entire county owes them a big debt of gratitude.

"I can't imagine if they weren't there, what could have possibly have happened," said Cyndi Beaver.

O'Rourke has pleaded not guilty to seven counts of attempted murder.