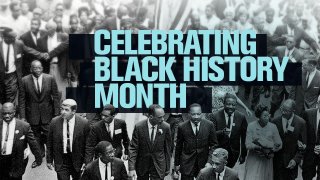 Each year beginning on February 1, an entire month of events are planned nationwide honoring the history and contributions of African Americans.
The theme for Black History Month in 2018 is "African Americans in Times of War" honoring those brave men and women who served their countries in the armed forces, especially those who made the ultimate sacrifice while defending the American ideals of freedom and democracy.
During World War II, for example, more than 2.5 million black men registered for the draft and one million served as draftees or volunteers in every branch of the armed forces.
A decade before the first glimmers of the Amercan civil rights movement, most black men were assigned to segregated combat groups.
Even so, more than 12,000 black men who served in the segregated 92nd Division received citations or were decorated for "extraordinary heroism" on the battlefield. Perhaps more famously, the Tuskegee Airmen also became legendary for their heroic feats, and in total received a Distinguished Unit Citation, several silver stars, 150 distinguished flying crosses, fourteen bronze stars, and 744 air medals.
We not only celebrate Black History Month but we salute our African American veterans, active duty and reserve members and thier families.