In light of the recent assaults in North Park and the search for a sexual assault suspect on the campus of a local university, people are sharing ideas for ways to stay safe when walking alone.
Something as simple as a smart phone app can alert those close to you or even law enforcement authorities if you find yourself in trouble.
Emily Albertson lives further from San Diego than her friends and says when they go out at night she often has to driver herself.
"Often times I have to park and walk a few blocks to meet them wherever we're going," she said. Albertson says she often feels uneasy and would like more options to feel safe in this situations.
Albertson isn't alone and the tech world is noticing. More smartphone safety apps are available like Watchoverme, bSafe and Safetrek.
With Safetreck, you hold down a button until you're some place safe. If you let go and don't enter your secret four-digit pin police are notified.
With Watch Over Me, you set how much time you need to get to a safe spot. If the time runs out and you don't press the "I'm safe" button, your emergency contacts are sent messages.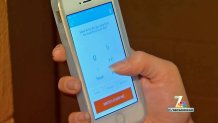 Many of the apps are free, but some provide better versions if you pay.