Anthony's Fish Grottohas been a fixture along San Diego's Embarcadero for more than 50 years, but the popular restaurant will now have to compete against other bidders to keep its slot along the shore.
At a Unified Port of San Diego meeting Tuesday, the Port Commission gave Anthony's a second chance and told them they would have to compete against two other bidders to stay at the 31,608-square foot space on Harbor Drive, which literally sits above the water.
Anthony's owner Craig Ghio spoke to Port officials during the meeting Tuesday, admitting that the restaurant is "old and tired," but promising its $12 million rebuild would restore its greatness.
"Great cities respect and embrace their icons, especially those who have chosen to refresh and invigorate their operations, as we have," Ghio said.
Six developers, including Anthony's and Phil's BBQ, submitted ideas for the slot when the restaurant's downtown lease expires. Brigantine Inc. and the Sunroad Enterprises/Cohn Restaurant Group partnership were picked as finalists to potentially replace Anthony's.
Representatives from Anthony's said Port staff had been "biased" and "disrespectful" of their plan to rebuild the restaurant.
He added that they wanted to stay the Port's "oldest, most famous and iconic partners" and would fight to stay.
Port officials have said they want the space's next step to fall in line with the Embarcadero's recent redevelopment.
The Brigantine Inc. proposal would include a new Brigantine Seafood & Oyster Bar next to other local eats, including a Mexican restaurant, an informal grill and bar and a coffee and gelato shop. A Sunroad Enterprises project would feature three locally-based restaurants, such as Blue Point Coastal Cuisine and Stone Brewering Tap Room, in a plan developers have named The Embarcadero.
The Fish Market, Inc., has proposed working on a joint venture with Anthony's Fish Grotto to enhance the existing location and two new restaurants to the mix.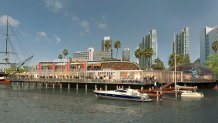 The tenant will join 73 restaurants, 16 hotels and three retail centers that the Port encompasses.