A man getting out of his car in his Paradise Hills neighborhood was killed Thursday when a driver hit him, carrying the victim about 40 feet before fleeing the scene.
The San Diego Police Department (SDPD) said the deadly crash happened just after 7 a.m. in the 5900 block of Albemarle Street.
The victim, identified by the family as 49-year-old Jose Padron, was getting am umbrella out of his car when a hit-and-run suspect traveling eastbound on Albemarle Street lost control and crossed over a center median. The driver sideswiped a parked car, then struck the victim's parked car and the victim, who was standing next to the vehicle.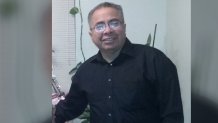 According to police, the victim was carried 30 to 40 feet down the road on the suspect's car before rolling off the hood.
Home surveillance cameras owned by neighbors showed police that the hit-and-run suspect stopped down the road for five to 10 seconds after the crash, but then continued on his way, leaving Padron hurt in the street.
Neighbors who heard the collision rushed to help the injured man, calling 911 and performing CPR until authorities arrived. He was pronounced dead at the scene of the crash.
Police said the suspect's car was recovered Thursday evening but there was no one taken into custody.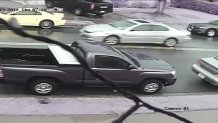 No one else was hurt in the incident. As of 4:50 p.m., no arrests had been made in the hit-and-run.