Local archers won the first medal for the U.S. in the London 2012 Olympic Games facing Italy in the gold medal match Saturday.See results here.
Chula Vista Olympic Training Center athletes Brady Ellison, Jake Kaminski and Jacob Wukie knocked out South Korea in the semi-finals in an emotional upset.
They then went on to face Italy in the gold medal round. Watch highlights here
Just getting to the gold medal round was a spectacular feat for the team.
The U.S. team, which climbed back to defeat Japan by a point in the quarterfinal, drew South Korea as an opponent.The U.S. trailed at the match's halfway point. It came down to the final three arrows, when South Korea had forced them to score at least 26 to overtake them. Kaminski, Wukie, and Ellison each shot 10.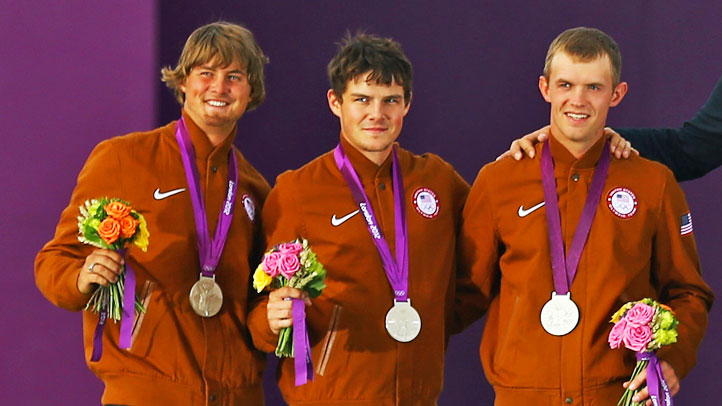 The final score between U.S. and Italy was 219 to 218. The one-point match that ended with silver for the U.S. and gold for Italy. South Korea earned the bronze beating out Mexico.
The tense competition was watched live by West Coast'ers on MSNBC at 10 a.m. PT.
Del Mar's Rachel Buehler and the U.S. women's soccer team, fresh off a 4-2 win against France, are playing Colombia. WHEN TO WATCH: U.S. vs. Colombia 9:00 a.m. PT on NBC Sports Network
Other locals who took their shot at Olympic gold Saturday were rowers and a cyclist with local roots.
Serra High School alum Chris Horner finished well behind the leaders in Saturday's road race. In fact, it was a disappointing finish for U.S. Cycling with
Tyler Phinney Tweeting "4th.... Heartbreaking."
This was the first Olympics for Horner, 41, who most recently competed in the Tour de France.
The race began at 1:50 a.m. PT. You can watch online < or on NBC 7 from 5 a.m. to 11 a.m. See results here.
U.S. Rowing gets into the games Saturday with locals on the men's eight faciUnder coach Mike Teti, the men looked impressive Saturday. They were graceful and smooth.
"It's the first time they've won a race at a world championship or Olympics," Teti said. "To win the heat gives them a bit of confidence. But they are going to have to really go to another level (in the final)." ng qualification rounds beginning Saturday.
Many members of the team lived and trained at the Chula Vista Olympic Training Center including Grant and Ross James, Giuseppe Lanzone and Brett Newlin. See results here
Team and Eventing Dressage, including local athlete Steffen Peters, begins its competition Saturday. If you want to watch the event live, you can catch the live stream as it begins at 1:55 a.m. PT
WHEN TO WATCH: Dressage highlights 10:45 to 11:45 a.m. on NBC Sports Network.
NBC's prime time coverage will likely include Men's team Gymnastics qualification and early-round Beach Volleyball match.
Get Olympic updates:iPad App | iPhone App | Android App | Facebook| Twitter | Google+ | Instagram | RSS | Text Alerts | Email Alerts
Published at 3:19 PM PDT on Jul 27, 2012 | Updated at 9:47 AM PDT on Jul 29, 2012