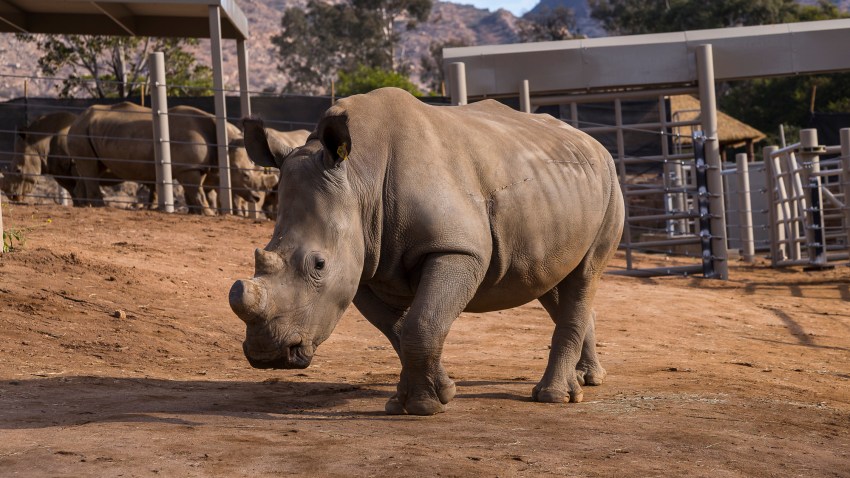 A five-year-old southern white rhino, possibly the target of failed poaching, is undergoing further care for a non-healing wound, the San Diego Zoo Safari Park announced Thursday.
The female rhino, named Wallis, was recently transferred from a private reserve in South Africa to the Safari Park.
At first, veterinarians performed a minor surgical procedure to explore and clean the wound. Officials then performed a second procedure when the first did not resolve the issue. They found the wound was more extensive than it appeared.
A metal detector test performed earlier this week signaled a brass or lead object may be under the current wound site, and officials believe Wallis may have been the target of a failed poaching attempt.
Officials will use radiography to further evaluate the affected area, but they are concerned the size of the animal will limit the effectiveness of the study. Zoo officials said they may ask the San Diego Fire-Rescue Department for help in the future; the department has offered the use of specialized imaging equipment used by their bomb squad. However, vets at the zoo have said they want to pursue all noninvasive diagnostic techniques before so as to give them a better understanding of the chronic wound. This will help them find a better treatment approach.
Wallis is one of six female rhinos relocated to the park from private reserves as part of a collaborative conservation effort to save the critically endangered northern white rhino and all rhinos from extinction.
Poaching has dramatically affected rhino populations in the wild and in private reserves in Africa. Rhinos are poached for their keratin horns, which some erroneously believe have medicinal value. Some view rhino horns as a status symbol and display them as a sign of success and wealth.