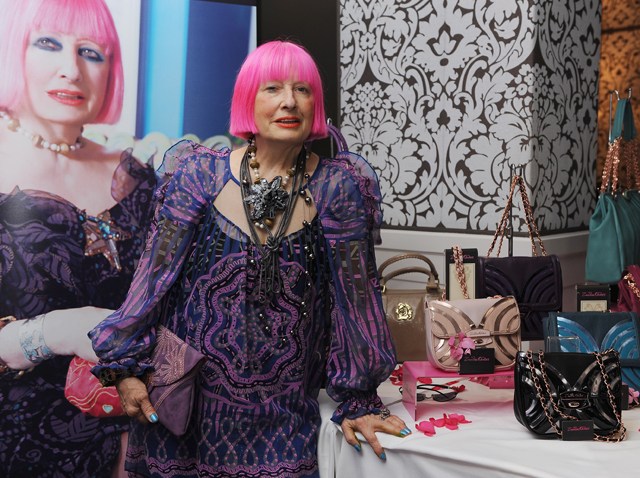 A new fashion exhibit titled "A Lifelong Love Affair with Textiles" has arrived on the Museum scene in Balboa Park, the Mingei International Museum to be exact, and it belongs to one of the world's most outrageous clothing designers.
It's not an easy task to find a comparison to the eccentric, anything-goes designer, Betsey Johnson, except one. Zandra Rhodes. The daring English designer shares the same love for bizarre and colorful textiles, as well as the same wacky style. Her bright pink hair, theatrical makeup and artistic jewelry compliment her boldly-printed designs quite well.
One whose original textiles were considered "too outrageous" by manufacturers in her homeland of the UK, Rhodes' collections are now worn by some of the world's most elite, including two of the world's most famous "Dianas": the late Princess of Wales and the unstoppable singer, Misses Ross.
Lucky for all you fashion fanatics, Rhodes' over-the-top designs have found a place in her secondary home of San Diego. Well, some of them anyway. Since October 3, some of Rhodes' work has been on display in the cultural museum, along with other various textiles and objects that are made to ignite some provocative conversations.
Want to learn from the lady herself? Tonight at the Mingei, learn how to embellish your jeans and jackets using Rhodes' very own techniques. It's called "The Joy of Jeans" and reservations are required. It's $100 for museum members and $125 for non-members. Add your name to the waiting list.
If you miss it, no sweat. January 21, you'll have a chance to see a New York-style fashion show featuring garments that compliment the new exhibit. There will be surprise celebrity guests and an auction to look forward to. Sneak peak at the auction prizes: a dinner prepared by Rhodes, herself, and served at the fashion icon's house in Del Mar and a Chargers package. Yeah, we're not kidding.
View the new exhibit Tuesdays through Sundays from 10 a.m. to 4 p.m. Admission is $7 for adults and $4 for students.
Visit www.mingei.org/fashionshow.