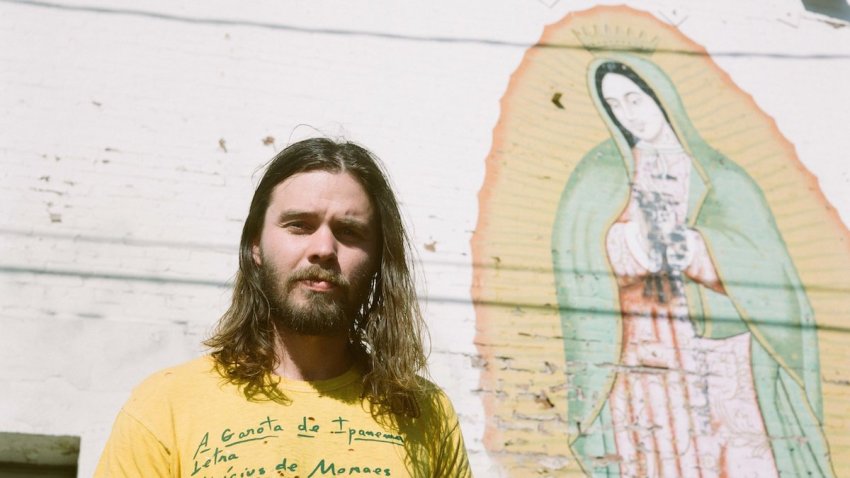 For a lot of people, the question of a national or cultural identity is not only relatively straight forward but incredibly empowering. For others, it can be paralyzing.
For someone like Will Fox, who was born in Houston, Texas, but grew up in Nigeria, London and Paris before moving to Boston for his college years, the question is utterly restrictive.
"I sound American, I look American, but when people would ask me where I'm from.... It was constantly challenging who I was -- and if I was able to put myself in a box," Fox told me over the phone earlier this month.
"I had an identity crisis growing up," he said.
While Fox is now a Los Angeles-based dream-folk troubadour á la Andy Shauf and Cass McCombs, he spent more than two decades lying to himself about that inevitability.
"Paris, I ended up being there for high school, where I really delved into playing guitar and opened up my mind about things. I was into stuff other kids weren't -- fingerpicking instead of just like playing in rock bands," Fox said.
"I never really thought that music was going to be my passion. I never thought that I could do what the people that I loved did. I thought those were two separate worlds. They were gods and geniuses, and I was just a human. But as you get older, you realize that Bob Dylan is just a dude," he added.
"I realized that I was a little bit confused about what I wanted to do in life. I studied music in college, and I didn't do very well. I realized for years I was lying to myself about not wanting to be a musician. I wanted to be a songwriter; I wanted to do the things that helped me throughout my life. I've found my home in music; I care deeply about the identity of my music -- it absolutely is my outlet," Fox explained.
His new album, "Which Way," out July 12, is a coming-to-terms with that sort of destiny realization, meaning there's been myriad bumps along the way, and there's still no certainty about it being the right decision.
"I was in a relationship at the time, my first kind of real relationship -- puppy love and all that. We probably dated for about two years, two and a half years -- I was driving as a Lyft driver and in and out of service industry jobs. Zero schedule started to take a turn on me -- she was wanting to think about the future more. The irony is there was an opportunity for me to go to Virginia and work at a gristmill, a wheat mill, down the street from where my mom and dad had built a house to retire. All my dad wanted was to go back to Virginia and retire looking over the Blue Ridge Mountains, and he fulfilled that dream -- but found out he had leukemia five days before [retirement]," Fox said.
"I thought it wasn't going to happen; it's the first time I ever felt the fragility of life. I felt like I finally had what I needed to write about to make me feel better -- try to make something of it, try to.... "Morning in LA" and "Wild Mint" are about that," he added.
After working at the gristmill for three weeks, Fox realized he had to break up with his girlfriend. He realized she was willing to drop everything and move to rural Virginia for him, and that scared him. That unconditional allegiance freaked him out, and he realized he wasn't in the same place as she was, that it was only fair to end things.
"'Which Way' -- the decisions that you make at any time, in your mid-20s, when you're still becoming an adult and dealing with loss and hardship and love and heartbreak. How do you pick yourself up and which way do you go?" Fox asked.
"I went home to Virginia last year when we were thinking about album art and what to do. I was going through these photos of the day that my dad was going around Virginia with his dad looking for plots of land to buy. This photo [the album art photo] is on the one [plot of land] that they looked at before the one they live on now," he said.
Fox's father survived his leukemia, and he and Fox's mother live on that unseen plot of land in Virginia, overlooking the Blue Ridge Mountains.
Will Fox supports Ryan Pollie at Whistle Stop on Sunday, May 19. More info here.
Rutger Ansley Rosenborg has been with NBC SoundDiego since 2016. Find out more here.