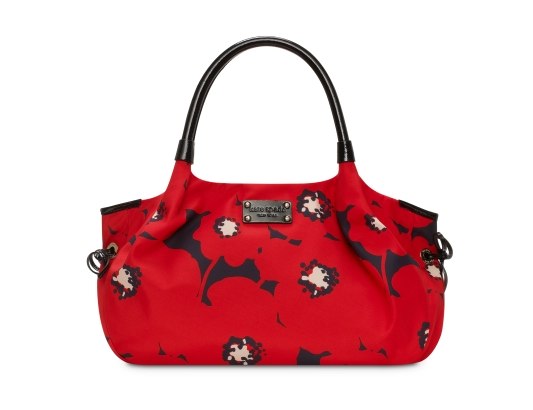 POPPING UP: Lots of ladies err toward the side of neutral when it comes to picking a go-to fall purse. Be a little more daring with a bright, fun option like Kate Spade's Poppy Fields Nylon Stevie bag ($285). Its casual composition easily livens-up everyday attire while looking classy and pulled-together.

BRIGHT SPIKE: A touch of red at the toes can be as subtle or as sassy as you choose. The Cut-Out Leatherette Bootie at Forever 21 ($26) has a sweet daisy-style pattern and tiny peep-toe to show off dark tights or a fresh pedicure with dresses, slacks and jeans.

IN THE TRENCHES: Classic silhouettes in new shades bring tradition and trend together in a very happy marriage. Dare to wear the Hidden Button Belted Trench from Bebe ($98) in a bold red shade and enjoy the blissful union.

BERRY BLING: If just a dab of red will do you, incorporate this lovely shade into your line of accessories and jewels. At Kohl's, look for Vera Wang's Simple Vera Jet-Tone Flex Bracelet ($20) for a triple-stranded ruby look, or go more urban with the SO Silver-Tone Crystal Bangle Bracelet Set ($7).