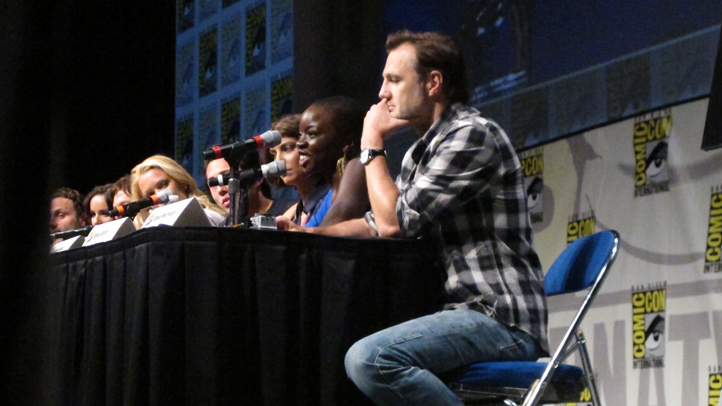 This may be a man's world. But the Zombie Apocalypse would be nothing without a woman.
At Friday's Comic-Con Walking Dead panel, fans got a look at what will be the series' new hero: Michonne.
Though Rick has played the knight and shining armor in the series so far, Michonne will take over in the upcoming season – wielding a Katana sword, to be sure.
The actress who plays Michonne, Denai Guerrero, reeked of authority and certainly sophistication in her snakeskin stilettos, shaved head and off-the-shoulder romper – positively elegant compared to her character, who in the comic, sawed off her zombie boyfriend's jaw and arms so he wouldn't attack her.
Walk though the Zombie Apocalypse at PETCO Park with creator Robert Kirkman.
Falling into the alpha female role was no easy chore for her, she said.
"I had to work hard to really bring out the lioness," she said.
The Governor will also make a debut in the third season, and by the looks of the short preview clip, he won't be trusted. His introduction as an overly accommodating diplomat will certainly stir government-takeover conspiracies among dedicated fans.
Another change panelists prepped fans for was the shifting role of Rick, played by Andrew Lincoln.
"Rick's been pushing people away to protect his son, and in so doing he loses his humanity," Lincoln said. "He has isolated himself from the group and his marriage and that's the way he's protecting everybody."
Now, he said, he'll need the help of his group as they try to take over the prison – which, by the way, looks completely cold, terrifying and chillingly realistic.
It's clear the producers of the show are putting their all into the third season, with the zombies more decomposed and the characters more developed than ever.

For more coverage, pictures and video from Comic-Con 2012, check out our special feature page.