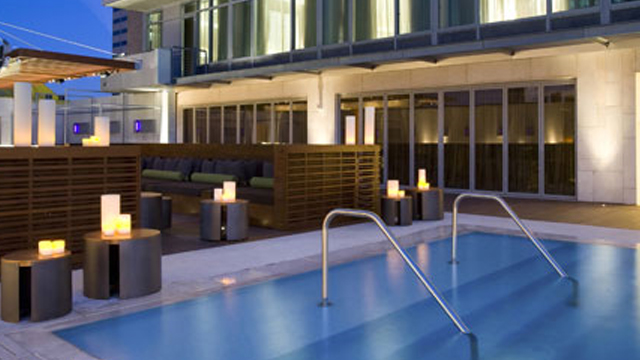 Thursday
Sycuan Presents Queensryche
Although they were initially grouped in with the legions of pop-metal bands that dominated the American heavy metal scene of the '80s, Queensrÿche were one of the most distinctive bands of the era.
J - Holiday
Performance by J. Holiday at Belo Night Club.
Earl Thomas and The Blues Ambassadors
For all the blues lovers out there, come to Anthology for a great show and CD release party.
Ooklah The Moc
Live at Cane's Bar and Grill this Thursday night.
Laidback Luke
Special Event Thursday at Thin! IDMA Breakthough DJ of 2009 and 2009 Beatport Nominee for Artist of the Year Laidback Luke will make his first appearance in San Diego.
Dave Gonzalez And The Stone River Boys and More
Dave Gonzalez (Gary Lewis & the Playboys and The Paladins) and The Stone River Boys at the Casbah.
Rock Out Karaoke
Sing all your favorite songs with a live band backing you up.
Hot Wax
Join DJ Veep Reekins and friends for blistering funk, classic hip hop and 80's dance.
Thrusters Hip Hop Thursday
This Thursday join DJ's Collagey and Pnutz at Thrusters Lounge in Pacific Beach. The DJ's will be playing all styles of hip hop at the hottest spot in Pacific Beach. No cover!
Plugged Presents: Live Music
"Plugged" is a live music showcase. An eclectic mix of local and traveling musicians in a loungy and personal atmosphere.
Divino
Heat Divino is this Thursday! Come to the only upscale and elegant night with a Latin Flair, featuring Mijangos from Acapulco, Mexico.
College Night at SIN
The official SDSU/UCSD 2008-2009 party spot. All Students in Free before 11 p.m. with college ID for drink specials all night long!
An Evening With Hot Tuna - Electric
From their days playing together as teenagers to their current acoustic and electric blues, probably no one has more consistently led American music for the last 50 years.
Friday
The Devil Wears Prada
Live performance by The Devil Wears Prada at SOMA.
The Spring Break Event and Pool Party
Sandios-San Diego Online Society for C-Level Execs is throwing a party at Se hotel. This event is tied to a great charity. Plenty of networking and lots of fun!
Honor Society with KSM
Honor Society is the perfect storm of talent and vision, musicianship and motivation, business and pleasure. Honor Society is where the great arena-rock acts of the eighties meet modern pop and hip-hop shows.
Diplo
One thing of which Diplo cannot be accused is being afraid to experiment with new music. With his mash-up mixtapes, he created a sound where his musical tastes ('80s pop, electronica, Dirty South hip-hop, and his major influence, Miami bass music) intersect.
Ladies Night Out at Faces Nightclub
Ladies Night Out this Friday. All ladies in free before 10:30. Happy Hour specials too!
j'adore Friday
The hottest new venue to hit the San Diego area. The long-awaited College Rocks Bar and Grill is here. College Rocks is SD's hottest venue for music and outstanding dining
Scooter & Lavelle
Dont forget to check out the resident DJ Climax spinning all the best hip-hop in the "Karma Lounge" and DJ Scott Martin playing out all your top 40 favorites in the "Gallery Bar".
Infamous
Impact Productions brings you Infamous at the hottest night club Belo, located at 919 4th Ave downtown. Free guestlist from 9-10:30 p.m., and half off drinks for those on the list.
Metro Featuring DJ ZAD
Get in the mix with DJ ZAD this Friday at the Minus One Ultra Lounge. Watch a special live broadcast of the international hit show Future (MIX) electronic music television.
80's Retro Electro Groove
This Friday, come to the Brass Rail for a trip back in time.
Endulge at Deco's
Kayella Entertainment and Deco's Nightclub present: Endulge Friday at Deco's at 731 5th Avenue in downtown. Co-Hosted by the beautiful ladies of Pure Platinum!
Good Times
A high-energy combination of funky disco and eighties hits with the hottest Top-Forty singles makes for an unforgettable Friday. DJ Tony Aguilera and the San Diego Mixmasters deliver this potent dose of pure audio remedy after a long week at work!
Lez Zeppelin
The New York City-based, all-girl, all-zeppelin quartet has gained unanimous critical acclaim as one of the most exciting live acts around. The are inconsequentially the first female rock act to pay homage to Led Zeppelin and to garner rave reviews across the board.