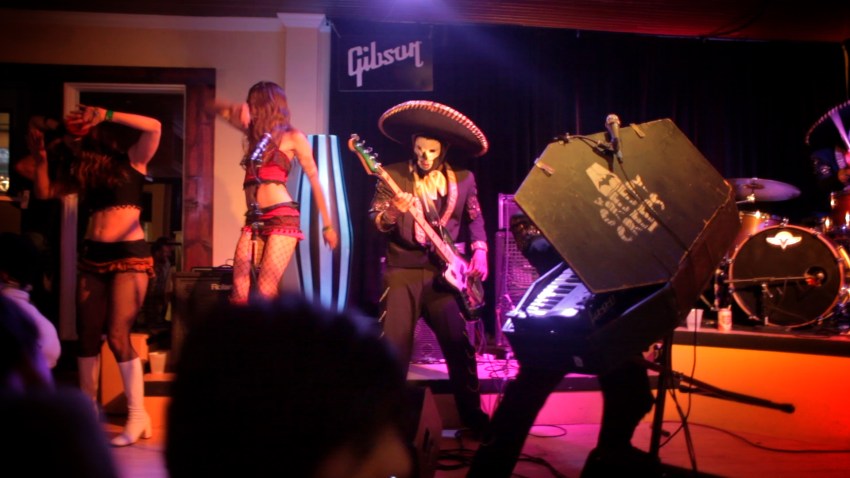 Welcome to San Diego's busiest weekend of the year. I don't know why the last weekend of September stacks up so many community events and touring acts, but year after year, you can almost be certain of two things: There are too many things going on to choose just one, and it is always really, really hot, despite summer having officially ended. So that said, there are dozens of incredible acts to catch this weekend at the Adams Avenue Street Fair, with more stages than I listed here, and I recommend taking the bus or riding your bike because parking is always a challenge in Normal Heights, even when there isn't a street festival. Same goes for Tour De Fat, which returns to Golden Hill Park with a bike parade, beer garden, and live performers while downtown, the San Diego Blues Festival claims the Embarcadero. All of your usual music venues have great shows, too, from Shannon and the Clams at the Casbah to Berlin at the Belly Up, to Catfish & the Bottlemen at House of Blues. The shows I'm particularly stoked about, however, are California (featuring members of Jawbreaker and Green Day) at the Ken Club, and Day Wave, a newish indie rock band that sounds a whole lot like Real Estate and is getting a ton of play on satellite radio, which means they should break on terrestrial radio sometime next year. Now you can say you saw them way back when.
Saturday, Sept. 26:
Day Wave, the Gloomies, Le Chateau @ Soda Bar
Casbah Rock Stage Adams Avenue Street Fair feat Wild Wild Wets (8:45 p.m.), the Creepy Creeps (7 p.m.), Low Volts (5:20 p.m.), the New Kinetics (4 p.m.), Buddy Banter (2:30 p.m.), Big Bad Buffalo (1 p.m.), Lion Cut (11:30 a.m.) @ 33rd Street & Adams Avenue
California (members of Jawbreaker/ PHPG/Green Day), Cruz Radical, Chagrin @ Ken Club
Tour De Fat feat Sister Sparrow and the Dirty Birds @ Golden Hill Park
San Diego Blues Festival @ Embarcadero Marina Park North (noon-8 p.m., read our interview with Booker T. Jones here)
Shannon and the Clams, Cool Ghouls, Teenage Burritos, DJ Craig Oliver @ Casbah
Luluc, KI @ The Loft UCSD
Shady Francos, Buddy Banter, Ditches @ Bar Pink
Berlin featuring Terri Nunn, Oliver Trolley @ Belly Up
ListenSD Presents Black Magic Party feat L.A. Witch, Some Kind of Lizard, Splavender, Lucky Keith, DJ: Andrew McGranahan @ Music Box
Granddad, Kids., T. Rexico, Toothpick @ Che Cafe
Air Supply - 40th Anniversary Tour, Sister Speak @ Humphreys Concerts By The Bay
Beta Lion, Mariel @ The Balboa
Catfish & the Bottlemen, Jamie N Commons @ House of Blues
Tramps Like Us 2015 @ Valley View Casino Center
80s & 90s @ Bar Pink
Groove International: Sound The Groove @ Voodoo Room, House of Blues
Smiths Night with Still Ill, DJ Saul Q @ The Hideout
Zachary Reid, Holy Gallows, Esteban Flores, Die Mißbildungen Des Menschen @ The Treehouse
Jason Hanna & the Bullfighters, the Rosalyns, the Diddley Daddies @ Brick By Brick
Adams Avenue Street Fair feat. Dan Gindling (noon), Katherine Terrein (1 p.m.), Sophia Bacino (2 p.m.), Christie Huff (3 p.m.), Kennady Tracy (4 p.m.), the Luck (5 p.m.), Caroline Corn (6 p.m.), Caitlin Everson (7 p.m.), Roni Lee (8 p.m.), Travis Larson (9 p.m.) @ Lestat's
Adams Avenue Street Fair feat. Cortney Preis (11 a.m.), the Zicas (noon), Gabriella & La Buena Onda (1 p.m.), Shawn Rohlf & the 7th Day Buskers (2 p.m.), Rob Deez (3 p.m.), Gregory Page (4 p.m.), Bushwalla (8 p.m.) @ Java Joe's
Arkona, Heidevolk, the Dread Crew of Oddwood, Helsott @ The Merrow
Erin Inglish @ San Dieguito United Methodist Church
The Eruption, Showcash @ The Bancroft
Gio & Diamond @ Croce's Park West (noon)
Afrojazziacs @ Croce's Park West (7 p.m.)
Detroit Underground @ Humphrey's Backstage Live
Golden Void (feat. Isaia Mitchell of Earthless), Color, Shukaa Sauti @ Tower Bar
Sleepwalking (Low Rider Oldies and Old School Funk Dance Party) @ Til-Two Club
D-Wayne @ Fluxx
Purps and Turqs @ Kava Lounge
Eden @ Spin
Ashley Wallbridge @ Omnia
Destructo Bunny @ Gallagher's Irish Pub
Just in Case, Arson Academy, Punchcard @ 710 Beach Club
Unwind Yourself with DJ Claire @ Whistle Stop (5 p.m.)
Junior The Discopunk @ U-31
Wang Dang Daddies, Psydecar @ Winston's (5-8pm)
San Diego Blues Festival @ Embarcadero Marina Park North (Noon-8pm)
Ocean Boogie- OBs Hottest Dance Party @ Winston's
Full Strength Funk Band @ Tio Leo's
Cosmic Gate @ Bassmnt
Louisahhh @ Bang Bang
DJ Politik @ Parq
Tom Staar @ Float, Hard Rock Hotel
Rosemary Bystrak is the publicist for the Casbah and writes about the San Diego music scene, events and general musings about life in San Diego on San Diego: Dialed In. Follow her updates on Twitter or contact her directly.