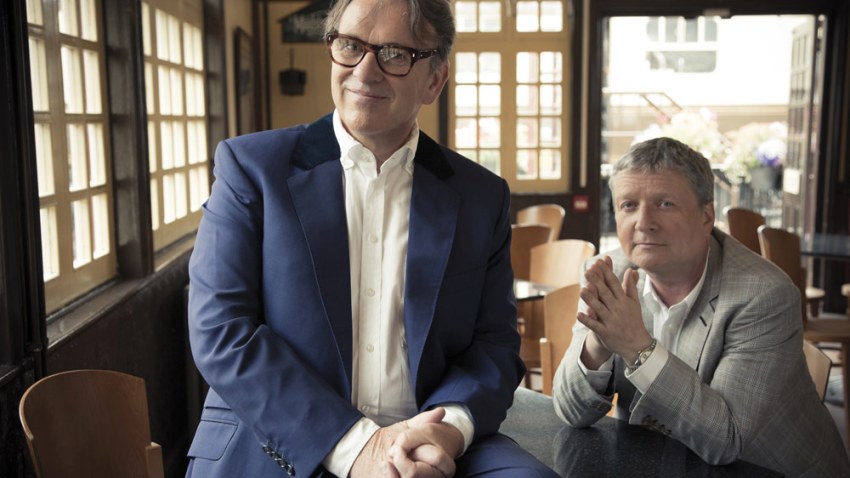 As if this weekend wasn't packed solid with music, Sunday night has some incredible offerings for your aural pleasure. First of all, Squeeze performs an acoustic show at House of Blues. With their extensive catalog and history, this will be a very special performance, indeed. Meanwhile, the Observatory is sold out with X Ambassadors though you might be able to score tickets at the box office; Girlboy celebrates a CD release at the Merrow; and Firethorn have reunited for a show at the Casbah.
Sunday, Nov. 15, 2015:
Squeeze Acoustic: "The At-Odds Couple" -- an evening w/ Difford & Tilbrook @ House of Blues
X Ambassadors, Skylar Grey, Kevin Garrett @ The Observatory North Park (sold-out)
Firethorn, Velvet Club, the Roxanne Wars @ Casbah
Schoolhouse Rock Live! @ California Center for the Arts Escondido
Girlboy (CD release) @ The Merrow (5 p.m.)
Matisyahu @ Balboa Theatre
Heart @ The Events Center, Harrah's Resort SoCal
Billy Changer, Fake Tides, Nimzo Indians, Kids In Heat, Pueblo @ Che Cafe
Day Mvs: Skream, Lee Foss @ Quartyard
The Front Bottoms, the Smith Street Band, Elvis Depressedly @ The Irenic
Puro Instinct, Gary Wilson & the Blind Dates, Sextile @ Soda Bar
Rat Sabbath @ Bar Pink
Jerry Jeff Walker (solo) @ AMSD Concerts
Point Break Live, Can You Keanu? @ Belly Up
Pants Karaoke @ The Hideout
Doyle, Chamber Sixx, They Feed at Night, the Grim Imperials @ Brick By Brick
The Jackson Price Band @ Sycamore Den
Forever Came Calling, Seasons Change @ Legend Records
The Robin Henkel Band @ Lestat's
Dave Good's Jazz Jam @ Java Joe's (2 p.m.)
Comedy @ The Bancroft
Dream Night with the Victoriana, Drab Majesty, DJs Mario Orduno & Quon Solo @ Whistle Stop
Patrick Berrogain @ Croce's Park West (noon)
Lorraine Castellanos & Rob Thorsen @ Croce's Park West (6 p.m.)
Stellita @ Humphreys Backstage Live (10 a.m.)
Marvin Banks @ Humphreys Backstage Live (8 p.m.)
Kitten With A Whip @ Winston's (5-8 p.m.)
Jose Sinatra's OB-O-Ke @ Winston's
Open Mic Comedy @ Til-Two Club
Yoga For Your Ears @ Kava Lounge
Sunday Funday Karaoke @ 710 Beach Club
Reggae Sundays @ Spin
Rosemary Bystrak is the publicist for the Casbah and writes about the San Diego music scene, events and general musings about life in San Diego on San Diego: Dialed In. Follow her updates on Twitter.