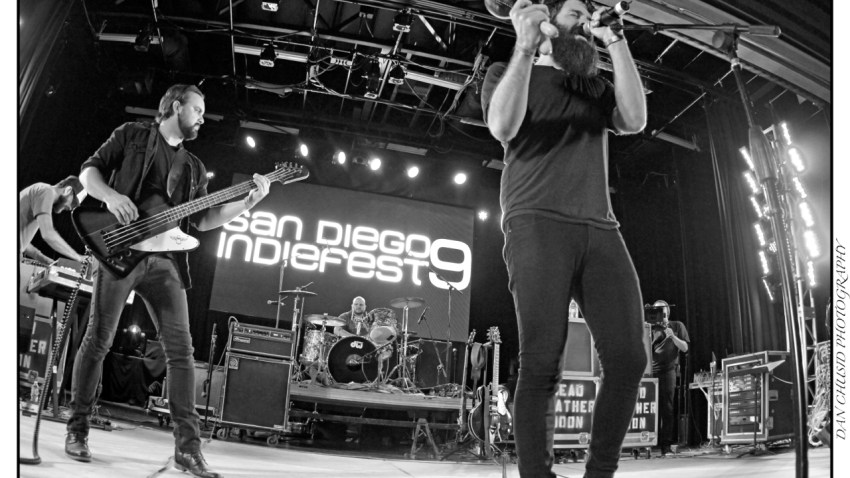 There is no shortage of stuff to do this Friday night. I especially love where Con and music intersect, with Cold War Kids, Bad Suns, and Cathedrals set to play for the CraveOnline party on the USS Midway. But, if you don't have an in and don't want to wait around all day trying to get in and just want to hear some music, head up to Soda Bar for Jessica Hernandez & the Deltas or to Hillcrest to catch our friends in Dead Feather Moon at the Merrow. Another installment of Epic Future Radness is going down in City Heights at the Tower Bar, and Open Mike Eagle is down the street at Til Two Club. Of course, the buzziest show of the night is the sold out Prayers show at the Hideout, with the "cholo goth" rockers skyrocketing even since our SoundDiego show with them just a couple months ago. If you want to know where to find me, I'll be catching Brooklyn's Son Lux at the Casbah because I love my indie and these guys know how to do it well.
Friday, July 10 (Comic-Con 2015):
Son Lux, Olga Bell @ Casbah
Casbah presents: Prayers, MXMS, Mystery Cave @ The Hideout (SOLD OUT)
Randall Christopher: The Modern World opening reception @ Chrome Digital
Dead Feather Moon, Jeramiah Red, Spero @ The Merrow
Jessica Hernandez & the Deltas, Kera & the Lesbians, the New Kenetics @ Soda Bar
Epic Future Radness Comic-Con After Party feat. Octagrape, Danny & the Darleans, the Kabbs @ Tower Bar
Burger Records Comic Con Party w/Tim Heidecker, Neil Hamburger @ The Observatory North Park
Chris Hardwick: The Funcomfortable Tour @ Balboa Theatre (7:30 p.m.)
Soda Bar Presents: Astronauts, etc @ Seven Grand
Open Mike Eagle, Preacher vs Choir, Nikki & the Mongoloid, LNC Generik & Anek, Kaus & Emphasize, Sighphur One @ Til Two Club
Bo Burnham @ Balboa Theatre (10:30 p.m.)
Lady Antebellum: Wheels Up 2015 Tour with Hunter Hayes & Sam Hunt @ Sleep Train Amphitheatre
Pato Banton, SO Cal Vibes, DJ Carlos Culture (8:30 p.m.) @ Belly Up
Big Time Operator @ Croce's Park West
Billy Midnight CD Release @ Whistle Stop
Cosplay Circus - Costume Contest & Concert @ Queen Bee's
Never Pass Go, Cuarto Menguante @ The Bancroft
Veronica May, Frank Lee Drennen, Sara Petite, Peter Bolland, Robin Henkel @ Java Joe's
Atomic Groove (5 p.m.) @ Belly Up
The Wild Side Band, DJ RM @ Gallaghers
Blue Rockit, Viva Santana @ Humphreys Backstage
Eliza Vera, the Comeback Kings, Whitherward @ Lestat's
Twisted Relatives, Psydecar, Kng Mkr @ 710 Beach Club
Sully Sullivan Band @ Tio Leo's
Stranger, Bad Neighborz @ Winstons (6 p.m.)
Ocean Beach Comedy with Michael Castleberry and Jim Hayes @ Winston's
Little Dove, Gloomsday, Foreign Bodies @ Bar Pink
Planet of the Drums @ Spin
Sully Sullivan Band @ Tio Leo's
Wovenwar, Secrets, The HeArtist, Hell or Highwater, and A New Challenger Approaches @ Brick By Brick
truTV Impractical Jokers 'Where's Larry?' Tour starring the Tenderloins @ Humphreys Concerts By The Bay
Asi Suena presents Maldita Vecindad @ House of Blues
Lee Churchill @ U-31
Jody Wisternoff @ Bang Bang
Earl Zero, Alika and Quinto Sol @ Worldbeat Center
Junior theDISCOpunk @ Henry's Pub
Marian Call @ 98 Bottles
Club Musae @ Boar Cross'n
#SDCC- Conan @ Spreckels (2:30 p.m., no tickets available)
#SDCC- CraveOnline's Crave Escape feat. Cold War Kids, Bad Suns, Cathedrals @ USS Midway (7-11 p.m., 910 N. Harbor Dr.)
#SDCC- BAMF (Big Awesome Music Festival feat. Eben Brooks, Kirby Krackle, Allie Goertz, Paul and Storm, DJ Galactic Ray, the Library Bards, Random Gibberish, High Score: The Music of Video Games, Gemeni) @ Ruocco Park (10 a.m.-10:30 p.m., 585 Harbor Lane, $5 Ticketed Event)
#SDCC- Cinephile for the Love of Film with Adam Savage @ Fluxx (9 p.m., 500 Fourth Ave, Free/Open to the Public, 21+)
#SDCC- Walker Stalker Fan Fest @ Petco Park (11 a.m.-5 p.m.)
#SDCC- The Walking Dead Escape @ Petco Park (6-11 p.m.)
#SDCC- Geeks for Peace hosted by Morgan Spurlock, Kevin Smith & Gotham Chopra, feat Band from TV (Greg Grunberg, Adrian Pasdar, Scott Grimes, Efren Ramirez and Eddie Matos), Giancarlo Esposito, Frances Fisher @ Moniker Warehouse (7 p.m., 705 16th St. Ticketed Event)
#SDCC- Universal Cable Productions Cocktail Reception @ Omnia (6-9 p.m., 454 Sixth Ave, RSVP Only)
#SDCC- Warner Bros. Television Annual Media Mixer @ Float, Hard Rock Hotel (7-9 p.m., 207 Fifth Ave, RSVP Only)
#SDCC- Mashable House @ Luce Loft (All Day, 1037 J St, RSVP Only)
#SDCC- Mash Bash (Mashable Party) @ Luce Loft (8-11 p.m., 1037 J St, RSVP Only)
#SDCC- Fox/FX Comic-Con Party @ Andaz (9 p.m., 600 F St, RSVP Only)
#SDCC- Syfy's "Sharknado 3" Party (feat. Ian Ziering, Tara Reid, Cassie Scerbo, David Hasselhoff & more) @ Hotel Solamar, 4th Floor rooftop (9 p.m.-1 a.m., 435 Sixth Ave, RSVP only)
#SDCC- Robert Kirkman's Skybound Entertainment 5th Anniversary & Air premiere. Guests include Norman Reedus ("Air," "The Walking Dead"), Andrew Lincoln ("The Walking Dead"), Steven Yeun ("The Walking Dead"), Lauren Cohan ("The Walking Dead"), Melissa McBride ("The Walking Dead"), Chris Hardwick ("Talking Dead"), Cliff Curtis ("Fear The Walking Dead"), Sandrine Holt ("Fear The Walking Dead"), Patrick Fugit ("Outcast," "Gone Girl"), Kim Dickens ("Fear The Walking Dead")
@ Western Metal Rooftop, Petco Park (9 p.m.-1 a.m., 100 Park Blvd. RSVP only)
#SDCC- BuzzFeed & The CW's Super Power Hour (feat talent from "Legends of Tomorrow," "Vixen," "The Flash," "Arrow") @ Altitude Sky Lounge, Marriott Gaslamp Quarter (5-8 p.m., 660 K St, Invite Only)
#SDCC- "Fear The Walking Dead" @ Screening at Reading Cinemas/ After Party (Starlight Terrace, Hilton Gaslamp, 401 K St., Invite only)
#SDCC- Gotham Group/Principal Entertainment's Comic-Con Lunch @ Rama (1-4 p.m., 327 Fourth Ave, Invite Only)
#SDCC- Playboy & Gramercy Pictures' Self/Less party @ Parq (10 p.m., 615 Broadway, RSVP Only)
#SDCC- Nerdist and Geek & Sundry present Conival Dance Party hosted by Felicia Day and Chris Hardwick @ Petco Park (10 p.m.-2 a.m., hosted bar until midnight. RSVP only)
#SDCC- Nerd HQ Star-Studded Bash w/DJ Nerd @ New Children's Museum (10 p.m., 200 W. Island Ave, RSVP Only)
Rosemary Bystrak is the publicist for the Casbah and writes about the San Diego music scene, events and general musings about life in San Diego on San Diego: Dialed In. Follow her updates on Twitter or contact her directly.