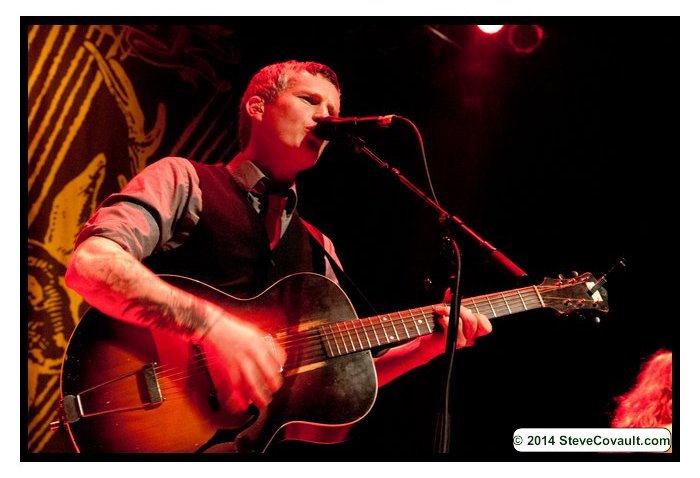 The San Diego music scene is slowly waking from an extended New Year's hangover, but it looks like we're ready to be back in the swing of things. If you like your Americana music rootsy, the Devil Makes Three bring their special brand of whiskey-soaked music to the Observatory for two nights, while the Casbah offers a punkier version with Behind the Wagon. Soda Bar welcomes Caught a Ghost, positivity author and singer Kathryn Cloward plays the Belly Up, and the Red Fox Tails play Seven Grand. Today also marks the first day of SpringBoard West at the Music Box -- a music industry event with daytime panels and an evening blitz of music showcases playing quick-turnover 10-minute sets as a preview to their longer sets this weekend (read our SoundDiego preview of the event here).
Wednesday, Jan. 4:
Behind the Wagon, the Screamin' Yeehaws, Ypsitucky @ Casbah
Caught A Ghost, Modern Me, Imagery Machine @ Soda Bar
The Devil Makes Three, Lost Dog Street Band @ The Observatory North Park
Kathryn Cloward, Lee Coulter, Parker-Tiernan @ Belly Up
SpringBoard West Industry Showcase Day 1 (in order of performance starting at 7:30 p.m.): Sam Clark, Moth Wings, Stealth, John Lindahl, Sami, Christina Sayers, Zoe Alexander, Halston Dare, the Charlie Rogers Bands, PERL, Mr. Smith, Paper Pilots, the Sounds of Ghosts, Ms. Proper, Young Scrap @ Music Box (Performers play 10 minutes each)
DJ Grandmasta Rats @ Bar Pink
The Red Fox Tails @ Seven Grand
Gilbert Castellanos Young Lions Series & Jazz Jam @ Panama 66
New Wave Monthly 11: Hiroshima Mon Amour (1959) @ The Office
Dance Klassique: DJs Joe Pea, Ryan Bauer & Gomez @ Blonde
Noise Cartel Records Showcase @ The Holding Company 1502
Club Kingston Presents: Live Reggae with DJ Carlos Culture @ Winston's
First Wednesdays: The Pizarro Brothers @ California Center for the Arts Escondido
Karaoke @ The Bancroft
Karaoke @ The Merrow (8 p.m.)
DJ Schoeny @ U-31
Tropical Wednesday with DJ Mo Lyon @ U-31
Open Mic with Jefferson Jay @ Winston's (6-9 p.m.)
Happy Hour with DJ Mike White @ Crossroads, House of Blues (FREE)
Debora Galan @ Humphreys Backstage Live
WTF Wednesday @ El Dorado
Open Mic/Open Jam @ 710 Beach Club
Rosemary Bystrak is the publicist for the Casbah and writes about the San Diego music scene, events and general musings about life in San Diego on San Diego: Dialed In. Follow her updates on Twitter or contact her directly.