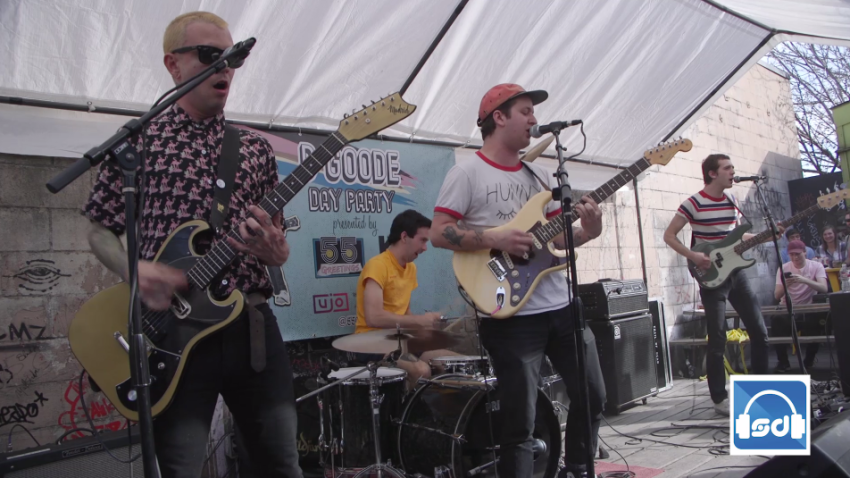 There are so many rad shows this weekend, your head might just explode from all of the possibilities. Tonight, our hometown heroes the Frights take the headline spot at the Observatory North Park (read our interview with them here) and the twins of mayhem, Rob Zombie and Marilyn Manson, play at Mattress Firm Amphitheatre. Another hometown hero, Karl Denson, brings his 'Tiny Universe' to the Belly Up and our friends in Marujah dust off the cobwebs at the Ken Club. I'm particularly excited about the Casbah tonight, however, because if you're on a tight budget, a free show on a Friday is almost unheard of. And with L.A. Witch in the headline spot and our buds in Heavy Hawaii opening the the show, it's certainly going to be a great night of action.
Friday, Aug. 24:
The Frights, the Marias, the Grinns @ The Observatory North Park
L.A. Witch, Heavy Hawaii, DJs Andrew McGranahan & Mikey Turi @ Casbah (free with RSVP)
Rob Zombie, Marilyn Manson, Deadly Apples @ Mattress Firm Amphitheatre
Karl Denson's Tiny Universe, Amo Amo @ Belly Up
Marujah, Captain Viejo, Los Chido @ Ken Club
The Fab Four @ Humphreys Concerts by the Bay
The Temptations, the Four Tops @ Bayside Summer Nights, Embarcadero Marina Park South
Dick McGuane Sextet @ Dizzy's
The Gore Horsemen, the Strikers, Sam Hell @ Soda Bar
The Freeze, Death Eyes @ Whistle Stop
Dethsurf, Psyatics, the Natives @ Tower Bar
Dave Parley of Prayers (DJ set) & Josexx @ Space
Killing the Messenger, Thousand Below, Seconds Ago, Ascensions, Blackcast, Beyond my Afterlife @ SOMA
Halestorm, In This Moment, New Years Day @ The Events Center, Harrah's SoCal Resort
Parade of Horribles, Badabing, Chris Swann @ Pour House (9 p.m.)
Harmony Tividad, Andrea Schiavelli, Banny Grove, Neutral Shirt @ The Che Cafe
G & the New Orleans Swing Gypsies @ Panama 66
Travis Larson Band @ Lestat's
Lee Coulter @ Java Joe's
Action Andy & the Hi-Tones, the Smokes, Lowland Drifters @ Black Cat Bar
Six Organs of Admittance, Wino, Xasthur @ Brick By Brick
AJ Froman, Bad Vibes @ Winston's
The Big Lewinsky @ Moonshine Beach
Matte Gray Band @ Moonshine Flats
Johnny Deadly Trio @ De Oro Mine Co
The Molly Ringwalds @ House of Blues
Danny Green Trio @ California Center for the Arts, Escondido
The Wayfarers @ Pour House (5:30 p.m.)
Pat Kelly & the Steady 45s, the Night Doctors, Mochilero All-Stars @ The Merrow
Murder Pony, Heptagon, Waking Things @ Bancroft Bar
Manic Fanatic '80s Party @ 710 Beach Club
Janice & Nathan @ Martini's Above Fourth
Dance Punk! Indie x Blog Haus x Electro @ Blonde
After Hours with DJs Adam Salter & Ayla Simone @ The Office
Live Acoustic Sessions @ U-31 (7:30-9:30pm)
Save this event to your plans and we'll remind you when it's coming up!
Los Recoditos @ El Gran Patron Night Club
Summerfest Finale with David Zinman @ Balboa Theatre
Kid Wonder @ U-31 (9:30 p.m.)
Grumatic @ Tio Leo's
Cafe Mambo Ibiza in the USA @ Hard Rock Hotel San Diego
Full Strength Funk @ Humphreys Backstage Live (9 p.m.)
Taking Of Towers, Angelshade, Circle of Crows @ Navajo Live (10 p.m.)
Supa Fly Friday with DJ Charlie Rock & KidRiz @ El Dorado
Cash'd Out, Road Noise @ Music Box
DJ Isreal and DJ Wenzo @ Bar Pink
Baynk @ Bang Bang
Murphi Kennedy @ FLUXX
By Night @ Spin
Purps 'N Turqs Burning Man Send Off Party @ Kava Lounge
Rosemary Bystrak is the publicist for the Casbah and writes about the San Diego music scene, events and general musings about life in San Diego on San Diego: Dialed In. Follow her updates on Twitter or contact her directly.