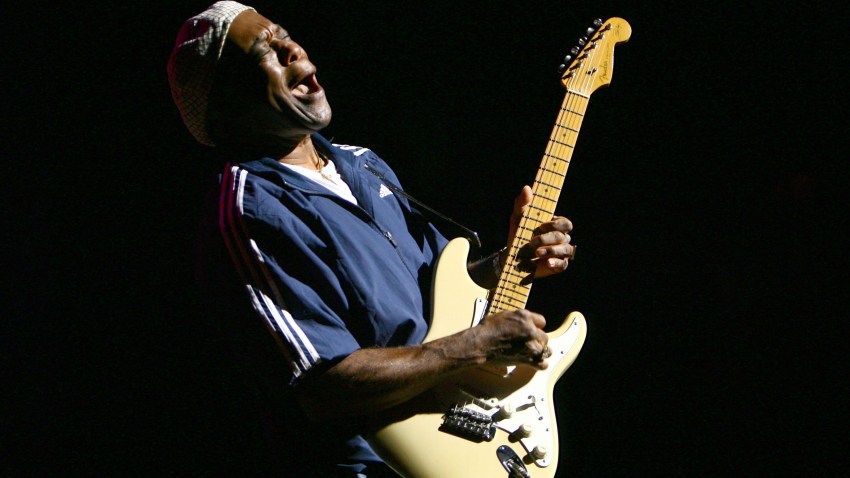 There are so many fun things going on today that it's hard to pick just one thing to do. Why not start your musical adventures early for a free (first come, first served) show at Quartyard with Robert Delong? From there, you can head up to South Park for Grampa Drew's Flim Flam Revue, which sees many of San Diego's finest musicians hamming it up. By nightfall, head to the Casbah for the Canadian alt-country of Elliott Brood or head to Soda Bar for the husband and wife "dub-pop" duo, Peaking Lights. Legend Buddy Guy performs at the Balboa Theatre, and even Barry Manilow makes a stop in town at the Valley View Casino Center. So much to do in just one day.
Saturday, April 11, 2015:
FM 94/9 Loud with Robert Delong @ Quartyard
Grampa Drew's Flim Flam Revue @ Whistle Stop (5 p.m.)
Elliott Brood, Shelby Earl, Pall Jenkins@ Casbah
Peaking Lights, the Most Hi, Chill Pill, Identity, Other Bodies DJs @ Soda Bar
The Milkcrates DJs @ Bar Pink
Buddy Guy @ Balboa Theatre
Barry Manilow, Dave Koz @ Valley View Casino Center
The Underachievers @ The Observatory North Park
The English Beat, Viernes 13 @ Belly Up
Omarmania: Sweetness vs. the Touchies and special guests @ Ken Club
Stevie and the Hi-Staxx @ Seven Grand
Jessica Hull @ Wine Lover
Splavender, Citrus & Katie @ The Balboa
Noche Cubana @ World Beat Center
Nathan Collins Tibute to The Crusaders @ Dizzy's
Somewhat Ace, Speech Impediments, the Dead Blue, the Tones, plus guests @ Epicentre
Short Stories (CD Release), Guidelines, Scarlett Avenue, Little Heroine, Alive & Well, Teenage Exorcists @ SOMA
Betty Who, Parade of Lights, SirenXX @ House of Blues
Groove International: Rise N Grind @ House of Blues, Voodoo Room
Loom, the Risin Sun, the Love Dimension @ The Hideout
Kehlani, Pell @ The Loft, UCSD
Matt Voodoo, Willie Psycho, the Spooky, Cult Vegas @ Brick By Brick
Joshua Taylor Band, Tim Moyer, Tyler Parks @ Lestat's
Dead Rock West @ Java Joe's
Booty Bassment (DJs Dmitri & Rob Moran) @ Whistle Stop
Processor, Snailfight, Hammered, Idols Plaque @ The Merrow
The Infiltrators, guests TBA @ The Bancroft
Saul Q @ U-31
Mark Fisher @ Croce's Park West (noon)
Eve Selis & Friends @ Croce's Park West
Lotus @ Humphrey's Backstage Live (5 p.m.)
PopRx @ Humphrey's Backstage Live (9 p.m.)
Rubber Biscuit, DJ Stack-Aly, DK Brown, Lil Al @ Tower Bar
Joey Bowen, Jimmy Lewis, Jeff Kelly and Friends @ Winston's (all day)
Warrior King @ Winston's (9:30 p.m.)
Sapient, David Dalla G @ Wonderland Ocean Pub
Brian Ellis' Reflection, Diamond-Ortiz, DJ Hotthobo, XL Middleton, Eddy Funkster, Black Belt Jones @ Til-Two Club
DJ Mustard @ Fluxx
Ashleigh Wallbridge @ Bassmnt
7 Word Story @ Tio Leo's
Wild Side, DJ Chelu @ Gallagher's Irish Pub
SM Familia @ Boar Cross'n
Helstar, Green Jelly, Cage, Helsott, Wither @ Ramona Mainstage
Rosemary Bystrak is the publicist for the Casbah and writes about the San Diego music scene, events and general musings about life in San Diego on San Diego: Dialed In. Follow her updates on Twitter or contact her directly.