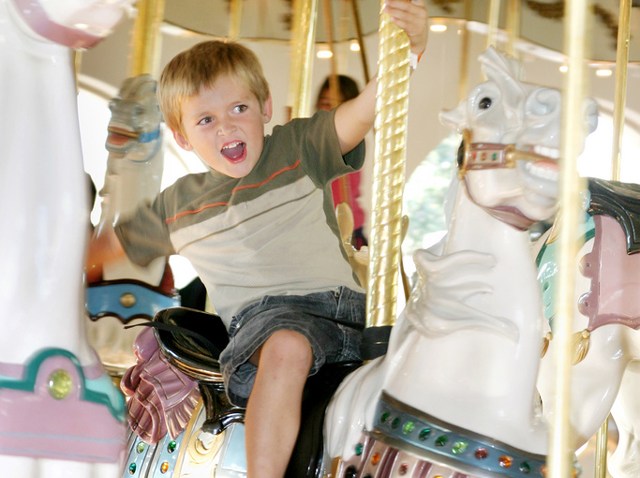 San Diego's seaside favorite, Seaport Village is gearing up to celebrate 30 years of fun under the sun with the ultimate carousel contest and two-day party. For 30 lucky contestants, $10,000 in prize money is on the line in the ultimate carousel contest.
It may sound pretty simple, as if all you'll have to do is ride a pony for a couple of hours and viola you've got $10,000, but don't get ahead of yourself. This contest isn't for the faint of heart. For 30 hours on Oct. 8 and 9, contestants will be on and off a circling carousel, with spectators watching and cheering them on, even though the people watching have so much more to be doing at Seaport Village during the weekend long party.
"We're so exited about having 30 years of great history here… so thought what better way to celebrate then to do something fun like getting 30 brave souls to get on this carousel and ride it for 30 straight hours," said Terry Hall, the park's General Manager.
The challenge is going to take place on an 1895 Looff Carousel which came to the Village in 2004 and has been in locations all around the country before finding it's home in the scenic hot spot known for it's great views, dining and shopping.
If you haven't been in awhile now is a great time to visit Seaport Village again, "There's so much more to see down here that everybody needs to come back down and check us out again", said Hall.
Besides the riding contest, the weekend features a jam-packed list of fun events for all ages over two days. Including live music, DJ's, Buskers, a live broadcast by MAGIC 92.5's Xavier the X Man & Sherry Knight, a fashion show and more.
Don't miss "Power Hour", where contestants are going to ride the carousel non-stop for an hour straight and while they spin so will a DJ for spectators. San Diego Family Magazine is also set to host an hour-long game and prize event for families on Saturday and the afternoon continues with more music until the trivia questions start for the riders - with all the parties it's easy to forget there's still a contest going on.
Spectators will get their chance to win store certificates and other prizes with trivia questions about the park and all four bay viewing restaurants will be offering a $30 fixed menu a la restaurant week style. For a complete list of everything that's going on during Seaport Village's 30 hour birthday blow out, click over to their website.
Once all the riders but one have stopped spinning, the winner will be announced at 4 p.m. and while the $10,000 prize money is sure to bring them comfort, a seat in an non-moving chair probably won't hurt either.
If you're one of those brave souls and have what it takes, there's still time to get your spot in the hopes of winning of the prize money by listening to the event's partner radio stations and checking out their blog.