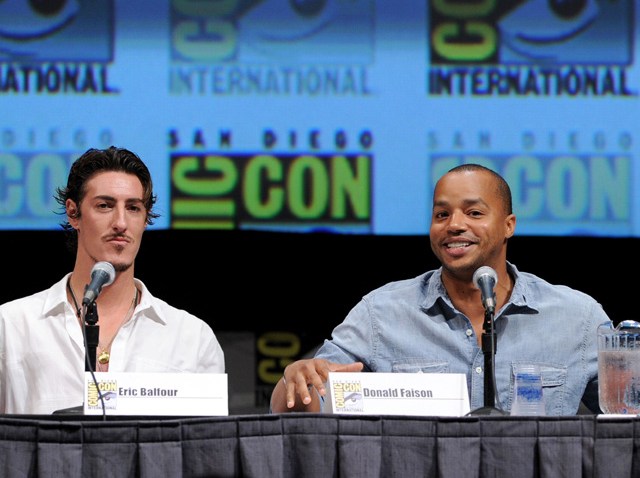 Comic-Con isn't just about the big production houses, but the little guys too. On Friday, everyone got a sneak peak at the independent film Skyline.

Part aliens, part Transformers, part college frat party, the movie "Skyline" is about aliens taking over the world, from the looks of the trailer their target -- the pretty people, but don't let that fool you. Some of the cinematography in the film is spectacular.

The movie stars David Zayas, Eric Balfour, Scottie Thompson, Donald Faison, and Brittany Daniel. You might know Faison from the movie "Clueless," or his role on the TV show "Scrubs."

"Skyline" may be about aliens, but the movie's producers Colin and Greg Strause wanted to give a fairly common storyline a different twist. The film is about aliens coming to the planet earth to abduct humans.

"They don't shoot guns, their approach is different," Colin Strause said. "The aliens use our primal instinct to stare at something that is different and use it against the human race, he said.

Since it was an independent production, the movie's producers were able to do things larger production companies could not. When it came down to choosing what the aliens looked like they were able to be creative.

"We didn't want to do anything with metal parts," Colin Strause said. "We wanted it to be unique and organic. We told them do what the other producers won't let you do."

"We wanted Transformer size aliens," Greg Strause said. They wanted to make creatures people had never seen before, he added.
The film was shot and cut in 11 months in the apartment of the movie's producer Colin Strause. Their biggest fear was about the neighbors calling police and being too loud.

Some of the staff had dual roles, none of the actors had a trailer, it was just a bare bones production, the actors said. Between shoots the cast would hang out with each other in the living room reading magazines.

"It just made the whole process more interesting, said producer Strause. "One of the writers was also a camera man making it easier to get the right shot."

"The biggest challenge was taking a one page treatment and turn it into a feature film, especially when people thought it couldn't be done," Greg Strause said.

"Skyline" is coming to theaters November 12, 2010.