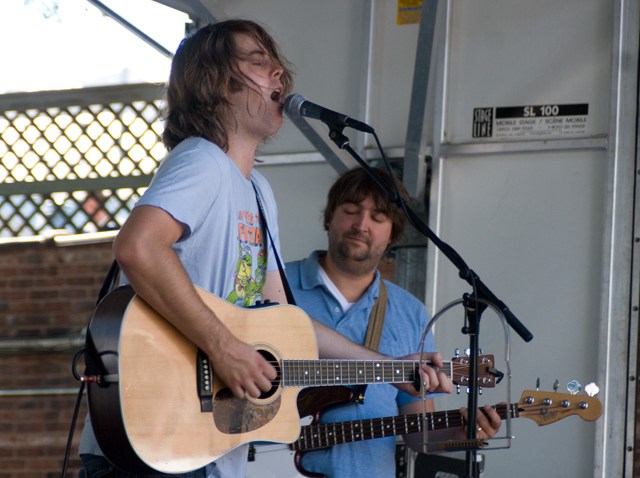 With this week's announcement of the 2016 Grammy nominees, awards fever falls swiftly upon us -- and San Diego has once again been touched by the bug.
The soulful Andra Day -- who co-starred in an Apple commercial that aired over Thanksgiving with, ahem, Stevie Wonder -- received two nods: for R&B Performance for "Rise Up," and for R&B Album for her debut record, "Cheers to the Fall." Her hometown debut at the Casbah in November sold out, but we shot video of the performance for a pair of Sessions segments that recently aired on SoundDiego TV. Although the singer was born in the state of Washington, her career started in San Diego, where she studied at the School of Creative and Performing Arts near downtown.
As the mandolin player for the Punch Brothers, Oceanside-native Chris Thile and his band of brothers received multiple nominations as well. The modern bluegrass pickers are up for awards for American Roots Performance and American Roots Song (both for "Julep"), and for Americana Album (for their fourth studio release, "The Phosphorescent Blues"). No stranger to the Grammys, Thile is a founding member of North County-formed Nickel Creek, the bluegrass band that won recognition for its fourth album. Seems like the fourth time could be the charm for Thile. Regardless of what happens at the awards, we'll be hearing a lot more of Thile in 2016, when he takes over NPR's "A Prairie Home Companion" show.
Also in the running is Julieta Venegas, who received a nomination for Latin Pop Album for "Algo Sucede" (which SoundDiego's Dita Quinones predicted earlier this year). The Long Beach-born, Tijuana-raised alt-Latino songstress already has one Grammy, five Latin Grammys and five MTV Latino Awards to her name. The only female in the category, Venegas is up against the likes of Ricky Martin, Alex Cuba, Pablo Alborán and Alejandro Sanz.
Other nominees with local ties include Anoushka Shankar -- the daughter of famed Indian musician/composer Ravi Shankar -- whose record "Home" has been nominated in the World Music Album category. Nominated for the same category at the 57th Annual Awards, Shankar and Carlsbad resident Wu Man, who was also a nominee in the category, both lost to Angelique Kidjo and her album, "Eve."
World-renowned bassist Nathan East, who earned his bachelor's in music from UCSD, has been nominated along with Bob James for "Ghost of a Chance" in the Arrangement, Instrumental or A Cappella category. At the 56th Annual Awards, electronic superstars Daft Punk tapped East -- who's performed, recorded, or co-written songs with Eric Clapton, Anita Baker, Babyface, B.B. King, George Harrison, Elton John and Michael Jackson -- to take the stage with them for "Get Lucky" alongside vocalist Pharrell Williams, Chic guitarist Nile Rodgers and legendary R&B singer Stevie Wonder.
At the 57th Annual Grammy Awards show in 2015, three San Diego musicians won accolades, including Chris Thile. Nominated for three awards, Thile and bassist Edgar Meyer took home the trophy for Best Contemporary Instrumental Album, shutting out a couple other San Diego artists also in the running in that category: Nathan East was up for the award for his 2014 solo self-titled debut full-length, and Mindi Abair was nominated for her "Wild Heart" album -- on which San Diego drummer extraordinaire Jake Najor performed. Also getting in on the winner's podium in 2015 was former San Diegan Gregory Porter, who guested on Dianne Reeves' "Beautiful Life" album, which won the award for Best Jazz Vocal Album. Guitarist/composer Peter Sprague contributed to Reeves' album as well, with a co-writing credit on one of the songs.

Hannah Lott-Schwartz, a San Diego native, moved back to the area after working the magazine-publishing scene in Boston. Now she's straight trolling SD for all the music she missed while away. Want to help? Hit her up with just about anything at all over on Twitter, where -- though not always work-appropriate -- she means well.