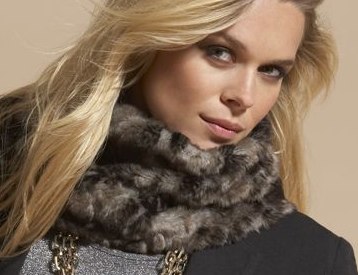 WELL VESTED: It will never get cold enough for a full fur coat in Southern California. A lush knit vest, however, looks great and suits the weather, just like the Fur Cable Knit Vest at Armani Exchange.
HEAVY NECKING: A quick and easy way to bring some glam to a simple top is with a fur-ish looking scarf or cowl, like the Red Label Faux Fur Cowl from New York and Company. Not only will it keep you warm, but it turns even simple outfits into something a bit more sassy.

SKIRT THE ISSUE: At first blush, the thought of a fur skirt can evoke images of Tarzan and Jane. However, the right style, like the Elizabeth and James Faux Fur Miniskirt, can not only look great at cocktail parties but will also layer well with t-shirts and booties.

THOSE BOOTS: You know the ones -- the boots with the fur. By opting for trim rather than full-bodied fringe, like the Fur Lace-Up Boots at Charlotte Russe, you can avoid the woolly mammoth look and hang on to supple sex-appeal.

HANG ON: If wearing fur seems redundant to you, why not show it off on a classy clutch? The Tianni Faux Mink Clutch looks great in rich browns and golds, and the large capacity will bring much use throughout the season.

HANDLE IT: No matter what anyone says, it does get a little nippy in SD. Give your hands an extra touch of warm with the Fur Racing Glove from Urban Outfitters. The faux fur lining peeking out from the fingerless ends gives a little bit of cold-weather refinement to an edgy looking accessory.
SCRUFFY CUFF: Jewelry doesn't have to mean diamonds and gold. The White Leather Cuff from Oak looks clean and crisp, and the little bit of dark faux fur brings some softness and fall flavor.