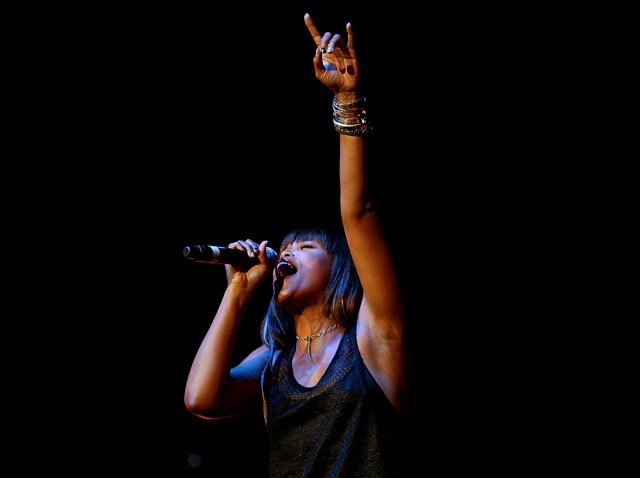 Officials announced this week that the multi-talented Eve will headline this year's San Diego Pride festival, hopefully performing tracks from the album Lip Lock, due to be released later this year, when she takes the stage on Saturday, July 17.
The hip-hop diva and actress recently appeared on two episodes of the hit series Glee.
Also performing this year will be '80s quirky, new wave rockers Devo, who will close out the festival on Sunday. A last-minute headliner addition to 2008's Street Scene, Devo single-handedly contributed to older aged attendees purchasing last minute tickets that year. Their costumes, including the popular bright, red energy domes, are infamous, but their mega hit "Whip It" is what they are best known for.
Blake Lewis, who was a runner-up during the sixth season of American Idol, is scheduled to open for Eve at 7:15 p.m. on Saturday. Undoubtedly he will remind us why he's the beat-box extraordinaire, perhaps performing his hit track "Break Anotha." Offering many music genres -- including alternative, Latin, country and blues on three stages -- to attendees, the festival also features shopping, food and information from more than 300 vendors.
The Pride Festival, which is entering its 34th year, has embraced diversity and teaching equality in the community, in the process becoming one of the premier gay pride festivals on the West Coast. More than 50,000 festival-goers are expected to attend this year's event at Marston Point (6th Avenue and Laurel Street) on July 17-18. Advance tickets are $15 per day and $25 for a weekend pass, $20 per day and $30 for a weekend pass on the days of the festival. Active-duty military can get in free with identification, and tickets are $10 for seniors and students aged 16-24. To purchase tickets, see a complete show schedule and get additional information, visit sandiegopride.org.