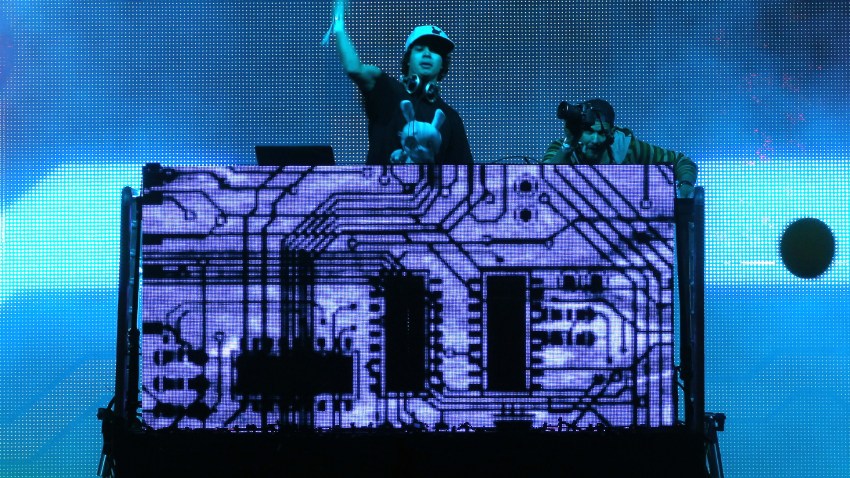 Halloween has come and gone and while some souls may still be feeling the hangover from that weekend, the city of San Diego doesn't seem to be slowing down any time soon for all of you electronic dance music enthusiasts!
As we embark on the countdown to the big turkey feast at the end of the month (which translates into lots of gym and dancing sessions for me to prepare) we're fortunate to have a variety of indoor and outdoor events to get you grooving in SD.
How does 100 hours of non-stop house, techno and love sound to get you started? Well, thanks to the San Diego natives that are making lots of noise for the underground scene in Southern California, you can do just that Nov. 5-8 with the party ending Monday afternoon! The Desert Hearts crew is celebrating the third installment of their annual self-titled festival, Desert Hearts, and it comes with an impressive lineup featuring Claude Von Stroke, Dance Spirit, J.Phlip, Olivier Giacomotto, Tara Brooks and over 40 more artists. Live art, human expression of freedom, an impressive ear-rattling sound system, and plenty of hugs await you in this desert paradise that they create and can only truly be experienced.
Markus Schulz returns with a mission for a special Thursday night show Nov 12. at Omnia. After an unfortunate fire at a nightclub in Romania caused by pyrotechnics, Schulz has taken action announcing he will not allow nor have pyrotechnics at any of his touring events in attempt to help keep fans and artists safe when partying. Make sure to drop into the dance floor after starting the night on the open-air roof and enjoy the cool CO2-filled main room at Omnia while you sweat it up on the dance floor!
For those looking for that bass fix, Datsik will be dropping heaviness of trap, dubstep and more at Fluxx on Friday, Nov. 13, while SD Union presents the legendary DJ Aphrodite at Spin Nightclub on Saturday, Nov. 21.
For another dose of underground events, the 18-plus able party spot of the month is Friday, Nov. 13 at Scream! Returning to the World Beat Center, this event is giving new ravers a chance to experience Scream for the first time with headliner Le Castle Vania returning and a 21-plus bar area set up for the adult ravers that want to go deeper.
Friday, Nov. 20, Rock the Discotek returns with Danksgiving at a top-secret location, going late into the sunrise with top-notch talent and good vibes all around.
Wednesday of Thanksgiving week is the unofficial "rage till you see your family" holiday and the Chainsmokers get the party started early at SOMA with a special all-ages show on Nov. 25. That same night, Audien invites you to receive a Belvedere-hosted bar at Omnia by simply bringing in a new blanket in a collaborative effort with Urban Angels. If you're looking to burn off some of that turkey and gravy, you can dive in to the new weekly "House Music Fridays" at AC Lounge, or slap on some sunscreen and head to DAYMVS presented by FNGRS CRSSD every Sunday at Quartyard with talent like Skream and Lee Foss on deck.
With November being the month of giving thanks, I have to say -- San Diego music scene -- you are beautiful and thank you for continuing to give us so many options to enjoy, bringing us together from many different paths of life while continuing to grow and adapt to those growing pains. And to those of you that support musicians and events alike -- thank you!
Nov. 5-8: Desert Hearts -- 100 hours of non-stop house, techno and love
Nov. 12: Markus Schultz at Omnia
Nov. 13: Datsik at Fluxx
Nov. 20: Danksgiving (at location TBA)
Nov. 21: DJ Aphrodite presented by SD UNION at Spin
Nov. 25: The Chainsmokers at SOMA
Nov. 25: Audien at Omnia -- hosted Bar until 10:30 p.m. with a new blanket donation
Nov. 27: GTA at House of Blues
Tomas Serrano, aka DJ IDeaL, is the electronic dance music correspondent for SoundDiego, covering the best of San Diego's electronic music events and culture. Follow his whereabouts on Facebook, Twitter or contact him directly.